Volunteering opportunities for teens
GVI offers a diverse range of volunteer opportunities for teens aged between 15 and 17. We've been running teen volunteering programs since 2012 and some of them are even award-winning.
Teenagers volunteering with GVI contribute towards advancing one or more of the 17 United Nations Sustainable Development Goals (UN SDGs) by the year 2030. Volunteer teens work to support environmental initiatives in wildlife and marine conservation, initiatives as well as education and community development projects. We offer volunteering opportunities for teens across five continents – Africa, Asia, Australasia, Europe and Latin America.
We uphold the highest ethical standards throughout our operations. Read about our forward-thinking stances on orphanage volunteering, medical volunteering, as well as animal captivity and handling.
GVI volunteering opportunities for teens
Our volunteer opportunities for teens in South Africa include a volunteer program in Cape Town. Teens on this program will participate in sports lessons with primary school learners. In the process, they'll learn about how the legacy of apartheid still affects the country. They'll visit the island where Nelson Mandela spent time in incarceration, and learn a little isiXhosa, a local language featured in the Black Panther film. Teens also visit the Southern Africa coastline, where they can spot fur seals and penguins, as well as take the cable car up Table Mountain.
Teen volunteers interested in visiting Central America during their summer, and interested in learning more about Costa Rican culture will find the perfect match in our Costa Rican teen volunteering program in Quepos. Here teens help to renovate local educational facilities and have plenty of opportunities to practise their Spanish. Adventure activities might include a trip to Manuel Antonio National Park where they will spot Costa Rica's famous wildlife species, and whitewater raft through the forest. Those who haven't surfed before can learn to do so in the warm waters of the Pacific Ocean.
Teenagers who'd like to explore a career in rainforest conservation can join our teen volunteering program in Costa Rica's Tortuguero National Park. Here teens learn all about the work that GVI researchers do to help local partner organisations like Coastal Jaguar Conservation and the Sea Turtle Conservancy. They'll conduct sea turtle surveys and help to install jaguar camera traps. While rowing down the river canals in a canoe they'll collect data on birds. While trekking through the forest they'll collect data on monkeys and other forest species. A white water rafting trip might also be included in the program.
Another volunteer opportunity for teens in Africa is our teen volunteering program in Ghana. Here, volunteer teens have the chance to contribute to our ongoing community development projects in the town of Kokrobite, about an hour from the capital of Accra. Teens will learn about the Atlantic slave trade and how Ghana gained independence. They also learn about the diversity of Ghanian languages and cultures. Adventure activities might include a trip to a national park where African forest elephants can be spotted and a visit to the local beach.
Teens volunteering with GVI can spend their summer on a Greek beach helping baby sea turtles make their way to the ocean. In the evenings, they will also help to monitor and tag mother sea turtles. Helping to clear beaches of plastic and other types of pollution is another important part of this teen volunteering program. A visit to Olympia, the original site of the first Olympic games, might also be included.
For those teens thinking of pursuing a career in marine conservation, our teen volunteering program in Mexico is the perfect option. Volunteer teens will complete either their PADI Open Water or PADI Advanced Open Water before heading out into the open ocean. They will explore the vibrant underwater world of the Mesoamerican Barrier Reef System, the second-largest coral reef in the world. Teens will learn how to conduct coral health surveys and visit a local laboratory where researchers grow corals to later transplant onto the reef. Visits to Mayan ruins and Mexican cenotes are also included in the trip.
Teens with an adventurous spirit can join our teen volunteering program in Nepal to trek the Himalayas. The trip starts with a volunteer project in Pokhara where they'll assist local staff with improving the learning facilities at local schools. They'll be immerse in local Hindu practices when visiting local temples and learn how to make momos, traditional Nepali dumplings, while attending a workshop at a local anti-human trafficking organisation. After the volunteering portion of the trip, teens complete a Himalayan trekking route, complete with stays at local teahouse lodges and views of the snow-capped mountain peaks.
Teens dreaming of pursuing a career in Afican wildlife conservation can get a taste of what this might be like by joining a GVI conservation expedition in South Africa. They will travel to a private nature and wildlife reserve an hour from Kruger National Park and will learn what conservationists do on a daily basis. Teens will learn about tracking lions and cheetahs, using telemetry equipment and how more elusive nocturnal animals like leopards, hyenas, porcupines and pangolins are monitored using remote camera traps. Adventure activities include a trip to the Blyde River Canyon where teens can swim and tube down the river.
Thailand is a destination many teens long to visit over their summer break. By volunteering with GVI teens can make this trip more meaningful by participating in conservation and community development initiatives. Teens volunteering with GVI in Thailand help to raise endangered baby sea turtles and improve learning facilities at local schools. A guided tour of sacred Buddhist sites, visits to national parks, and a trip to Phuket are adventure activities that might be included in this program.
Our island conservation, teen volunteering program in Seychelles allows teens to learn from the only research team stationed permanently on the tiny island of Curieuse. This is one of only two islands in the world where the coco de mer palm tree is natively found. Volunteer teens assist researchers with studying and planting native tree species as well as collecting data on the Aldabra giant tortoise population. Teens also help to study the effects of climate change on local beaches. Adventure activities might include a tour of several islands in the Seychelles archipelago.
GVI teen volunteer programs
All GVI volunteer programs for teenagers include:
volunteer work

adventure activities like whitewater rafting, zip-lining, and surfing

cultural activities like language lessons, traditional dances and cooking local dishes

introduction to international sustainable development and talks by local subject area experts

accommodation throughout the trip

three meals per day

airport pick-up and drop-off

transport throughout the program.
UK teens can also apply for the ASDAN or Duke of Edinburgh Award after completing their GVI program.
All GVI teen volunteering programs take place over Northern Hemisphere summer, June to August, and run for two weeks. Teens also have the option to book onto one of these programs for only one week, but then will not join their fellow teen volunteers for the adventure portion of the program.
Parent FAQs
If your parents would like to know more about GVI, please direct them to our parent information page, where they can download our parent information pack. Below we've listed our answers to the questions most commonly asked by parents or guardians.
Our operational safety regulations are of such a high quality that they've garnered us top honours among the global community of youth travellers. We're also compliant with British Standard 8848, a set of guidelines designed to protect those booking adventure trips abroad. To learn more about the specifics of our safety policies see our detailed health and safety page.
Do GVI programs include flights and flight chaperones?
While flights and flight chaperones aren't automatically included in a GVI program fee, these services can be selected when booking a GVI program. Excellent flight prices can be secured through out flight partner, Student Universe. Parents can also book a flight chaperone to accompany their teen from their home country departure to their on-location arrival.
Do you offer airport pick-up and drop-off services?
All GVI teen programs include on-location airport pick-up and drop-off services. To manage arrivals we set up an instant messaging group connecting teens, parents and GVI on-location staff.
Upon arrival at the on-location airport, teens are greeted by a GVI staff member holding a GVI sign. They'll also usually be wearing a GVI t-shirt. Teens travel with the GVI staff member to their accommodation.
Some teens will meet their fellow teen volunteers at the airport, while others will meet their teammates upon arrival at their lodgings. Once everyone is settled in, teen guardians will receive a confirmation email.
Transport to and from project as well as throughout the adventure portion of the trip is also provided by GVI. At the end of the trip, GVI on-location staff escort teens to the airport in time for their departure flight home.
What are the medical facilities like on-project?
All accommodation, project sites and adventure activity locations are risk assessed to make sure medical facilities are nearby. All our on-location staff are also emergency first aid trained and fully stocked medical kits are always on-hand.
What if there's an emergency while my teen's abroad? How will I contact them?
We have crisis management plans as well as Emergency Action Plans (EAPs) in place at each of our locations. Our 24-hour emergency desk is also available to parents and guardians. Generally we encourage teens to unplug during their trip abroad and benefit from a digital detox, but if you'd like to get in touch, you will have access to the phone numbers of on-location staff members.
What's supervision like on the a GVI teen program?
GVI has, arguably, the highest staff to participant ratio of any international teen volunteer abroad program provider. We guarantee that there will be at least one GVI staff member for every six teen volunteers, but this ratio is often much higher and more like one staff member to every three teens. Unlike adult volunteers, who use their evenings and weekends to explore the local area, teens are supervised by GVI staff throughout their stay.
Who are your on-location staff?
All our on-location staff are selected, vetted, trained and managed by GVI. They all undergo a police background check, as well as training on our Child and Vulnerable Adult Protection Policy. Many of our staff were once GVI volunteers and interns, so they know exactly what it feels like to volunteer abroad as a young adult and can effectively guide teens through the experience.
What is the accommodation like?
Teen volunteers have separate accommodation to our adult volunteers. On-site risk assessments are performed before we agree to use any accommodation provider. The exact type of accommodation we offer differs depending on the location. Accommodation might be a little more basic than what teens are used to, but we always ensure that our health and safety is always of the highest calibre.
Does my teen need a visa to travel abroad? Do they need to get vaccinated?
All visa and vaccination requirements are dependent on your teen's nationality, their current residences, and the location to which they wish to travel. While we won't personally give any specific visa or vaccination recommendations, we can put you in contact with experts in your location so that you can learn more about your specific requirements. Your assigned travel support coordinator will also assist you with documents and packing lists in the months leading up to your teen's trip.
Do you offer travel insurance?
Travel insurance isn't automatically included in our program fee, but it can be purchased through our insurance partner, CISI.
Funding
While many still assume that volunteering abroad should be free, providing funds to an organisation like GVI in order to manage your volunteer abroad experience is usually the most contentious choice. If you, or your parents, would ever like to know more about this, be sure to browse our article on the subject or speak to one of our enrolment managers. Maybe you or your parents would like to know more about how GVI spends funds to maximise impact on the ground. See our financial graph for details.
Every so often, we offer time-limited volunteer and intern abroad scholarships to candidates meeting certain criteria. To see if we currently have scholarships available see our scholarships page or you can ask your enrolment manager when applying for a GVI program.
Many of our volunteers, especially teen volunteers, use their GVI volunteering program as an opportunity to gain experience in fundraising. While booking your GVI program, let your enrolment manager know that you're looking to fundraise to volunteer abroad. They'll set up a personal fundraising page for you on GVI's own fundraising platform. Then, browse our article for fundraising ideas and share around your own GVI page to start your fundraising campaign.
Download our program brochures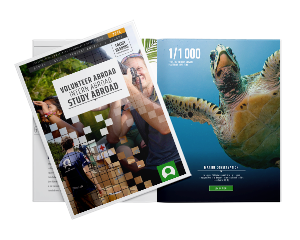 CHOOSE YOUR TEENAGE VOLUNTEERING OPPORTUNITY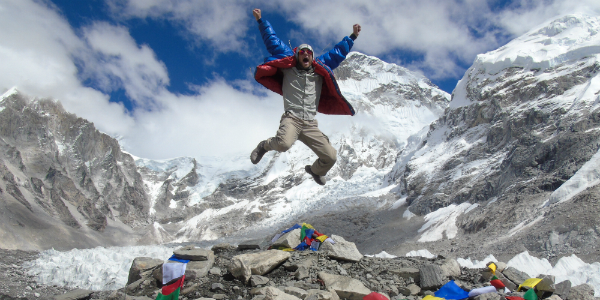 Volunteering for Teens
With world-class leaders chosen for their mix of experience in the field and ability to mentor and inspire, enjoy a unique experience while getting to know other volunteers from all over the world.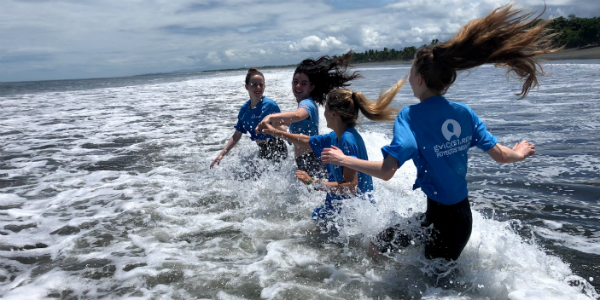 School Trips Abroad
Our varied and exciting school programmes are tailored to fully immerse and challenge students in contrasting environments to ensure that students have a memorable and positive learning experience.