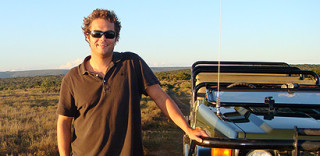 GVI's, its objectives, and culture we founded on needs on the ground, and a strong set of principles we still pride ourselves on today.
In 1995, I was living on a remote beach in Malawi running a hostel I had bought from the local chief. At the ripe age of 22 I was the proud owner of a few run down huts on a beach in Africa that you could only get to once a month by boat.
Living there, I spent a lot of time in the local village, getting to know people, meeting with community leaders and hearing about the challenges the community faced. Inspired to help them, I began to think about how volunteers could really help address the problems they encountered on a day-to-day basis. I called my old friend Ben who was carrying out marine research in Honduras. During university we had both had amazing experiences volunteering, but felt the experience and the sustainability of the impact could have been greatly improved.
Together, we set out to build an organisation that worked hand in hand with local communities to build sustainable environmental and humanitarian volunteer projects. We believed that because of the long-term vision and community involvement in our projects, volunteers would ultimately have a deeper, more responsible and more rewarding personal experience. It is this same commitment to running only long-term projects that demonstrates our passion to help people and improve the communities we work with.
Download our program brochures