jQuery('.mobile-cta').appendTo('#mobile-cta-placeholder .et_pb_code_inner');
Find an International Volunteering Opportunity
Welcome to GVI – we're so happy that you found us.
If you're reading this you probably already have a pretty good idea of what volunteering abroad is all about. You might've even spoken to your family and friends about why it's important to volunteer abroad.
We'll bet that you've been sharing inspirational quotes about volunteering abroad and stories of how an international volunteering program can change someone's life, and make a real and meaningful impact in the world.
If that sounds like you, then you're in the right place. Because at GVI, we're just as committed to contributing to global causes as you are. In fact, we've spent over 20 years perfecting the quality of our international sustainable development projects to ensure that you'll achieve the maximum positive impact while on your volunteer trip abroad.
Besides being able to guarantee that our volunteers will be contributing to solving critical global issues, volunteering abroad with GVI gives you the chance to improve your employability with peace of mind knowing that we offer an award-winning level of safety and support to all our volunteers. Take a look at this article for more top reasons to volunteer abroad with GVI.
Choosing a reputable volunteering organisation like GVI means you're guaranteed ethical practices and ongoing support. Our ethical practices are central to our work, and we're committed to reviewing and updating these in line with international standards. Our comprehensive pre-program and on-site training ensures that your volunteering experience will be a valuable addition to your resume or college application.
But maybe you've already decided why you'd like to volunteer. So if you're already thinking about the next steps you need to take to go abroad and volunteer, you're in luck. It's simple. Do your research, find a volunteer opportunity abroad that appeals to you, and then apply.
If you're having trouble choosing a program, take a look at this article on some of our best volunteering programs. You can also contact us to speak to one of our enrolment managers about their recommended volunteering programs. If it's funding you're concerned about, keep an eye out for our scholarships, or speak to an enrolment manager about our fundraising platform.
We hope to see you on one of our volunteer trips abroad, making a lasting impact, very soon.
Pre-program training
Our pre-program procedures ensure that you'll arrive on base prepared and ready to make an ethical and long-lasting impact. The first step in your GVI journey is an orientation call hosted by one of our friendly support staff members. The call will take place on Zoom around six weeks before your departure. You'll be able to meet fellow volunteers and base staff, start building connections, making friends and getting excited! We'll also cover arrival logistics, let you know exactly what you can expect and answer any questions you might have.
Before your program begins, you'll also get the chance to work through our "GVI around the world" presentation to learn about the places we work, our programs, and get a better feel for what you'll experience when you volunteer abroad with us.
You'll also have the chance to complete our Leading Teams for Impact online course, which will lay the foundations you need to take on leadership roles in the development space. This optional course is self-paced and should take approximately 10 hours to complete. If you choose to complete the course, you will receive a certificate of completion from the University of Richmond.
Where is the best place to volunteer abroad?
With so many exciting locations to experience, it can be overwhelming to choose just one. You might be sitting on the question, "Where should I go to volunteer?" And, while we can't decide for you, we'd love to help match you up with a location you'll love. Our friendly enrolment managers are always ready to chat to you about our location and project offerings.
We have sustainable development volunteer projects across five different continents, including:
With bases on so many continents, you have the opportunity to volunteer in a diverse range of countries like Cambodia, Costa Rica, Fiji, Ghana, Greece, India, Laos, Mexico, Nepal, Peru, Seychelles, South Africa, Madagascar, Tenerife, Thailand and Belize.
For many volunteers, the only thing holding them back is wondering which are the safest countries to visit. We understand your concerns about the risks involved in travelling and volunteering abroad, and while international travel always carries some risk, GVI doesn't operate in countries where we know the risks are too high.
We also provide extensive support to all our participants throughout their volunteer abroad journey and our health and safety compliance officers ensure that all of our programs adhere to the highest safety standards.
Volunteer abroad programs
Conservation
All our wildlife conservation programs are aligned to United Nations Sustainable Development Goal (UN SDG) 15: Life on Land. These programs allow participants to volunteer with animals in ways that contribute to their conservation and survival through surveys, observation, research and data collection.
It's important to note that we don't support or encourage volunteers to interact directly with wild animals of any kind. Where animal handling is done, it must be necessary for the health of the animal, or strictly for legitimate scientific purposes and conducted ethically under the supervision of trained staff members or local experts. You can learn more about our stance on animal handling and captivity here and our health and safety operational guidelines here.
You can choose to participate in one of our wildlife conservation programs on Curieuse Island in Seychelles, Giannitsochori (a small Meditterean beach town in Greece), or Jalova (a remote research base in Costa Rica's Tortuguero National Park). You could also travel to South Africa, where you'll be based on a private nature and wildlife reserve in Limpopo, in the Greater Kruger National Park.
If you choose to volunteer abroad in Thailand, you'll get the chance to work on our endangered Asian elephant forest reintegration project. This project is based in a small Karen culture village in the hills above Chiang Mai in Northern Thailand. Here, you'll work with traditional elephant keepers to help reintegrate the elephants into their natural habitat and support the community with developing alternate sources of income. If you'd like to learn more about this topic, check out our article: How to ethically volunteer with elephants in Thailand.
Or maybe you'd prefer to venture to Phang Nga province in Southern Thailand, where our endangered green sea turtle nursery project is based. Here our volunteers work at a local turtle nursery supported by the Thai government. Volunteers help the nursery to raise endangered baby sea turtles to a size where they can fend for themselves and are more likely to survive in the wild. We also offer sea turtle volunteering programs in Costa Rica, Greece and Seychelles.
For those looking to make a contribution to big-cat conservation, why not travel to sunny South Africa to work on our big cat volunteer program. On this program, volunteers help to track the movements and behaviour of lions and other predators like leopards, cheetahs and hyenas in Karongwe Private Game Reserve in the Greater Kruger National Park. Volunteers can also get involved in some of our other wildlife conservation projects in South Africa where they can support the conservation of rhinos, elephants, hyenas, cheetahs and other species.
If the jungles of Costa Rica seem more appealing than the savannahs of South Africa, why not join our wildlife expedition in Costa Rica? Here, we work in Tortuguero National Park to support the conservation of jaguars and other rainforest species like monkeys and tropical birds.
GVI offers marine biology volunteering programs on the islands of Caqalai in Fiji, Mahe in Seychelles and in the beach town of Puerto Morelos in Mexico. On all of these programs, volunteers will be scuba diving abroad and gain professional diving certificates endorsed by PADI along the way.
And if you volunteer abroad on one of GVI's marine conservation volunteer programs for longer than two weeks, you'll earn the Coral Reef Research Diver Distinctive Specialty, a PADI qualification offered exclusively on GVI marine conservation programs.
But for volunteers who'd rather snorkel than scuba dive, we offer a seasonal coral research project in Southern Thailand. And as with all GVI marine conservation programs, volunteers will work to minimise marine plastic pollution and learn about the effects of climate change (specifically coral bleaching). This is an aspect of all our marine conservation volunteering programs abroad.
And, if you're interested in whale and dolphin conservation, why not join one of our marine conservation programs in Tenerife? Here, you'll have the opportunity to participate in activities such as ethical whale watching while you monitor and collect data on various types of marine life.
All GVI marine conservation volunteers can be confident that they'll contribute to UN SDG 14: Life Below Water, as all our marine conservation projects, are aligned to the objectives of this goal. And GVI marine conservation volunteers learn skills and gain valuable experience that could help them pursue a career in marine biology, oceanology or conservation.
Environmental conservation
We also run environmental conservation volunteer projects. These take place in all the locations where we run conservation projects, and many of the locations where we run community projects.
Volunteers can help with environmental restoration efforts by removing plastic pollution and other waste from marine, land and freshwater environments, by helping to eliminate invasive species, and by assisting local organisations with planting native trees or introducing other indigenous species.
At our wildlife conservation locations, volunteers might also assist local staff with trail maintenance in the nature and wildlife reserves in which we operate. Volunteers can also learn about the effects of climate change on specific natural habitats while on any of our conservation programs.
Community development
If you'd like to help children abroad, join our volunteer with children or teach English abroad programs. On these programs, we support local educators in helping children reach development milestones, increase literacy and numeracy statistics, and improve on a range of other learning areas like computer literacy as well as healthy eating and physical activity.
In contributing to these projects, volunteers work to achieve UN SDG 4: Quality Education. You can join one of our volunteering with children programs in Cambodia, Costa Rica, Fiji, India, Laos, Mexico, Nepal, South Africa and Thailand.
It's important to note that GVI doesn't offer, directly support, or endorse orphanage volunteering. Learn more about our stance on orphanage volunteering here.
You also don't necessarily need to choose volunteer work abroad with children in order to make an impact in the lives of these young people. Supporting parents in increasing their household income also has an effect. You can contribute to this goal by joining one of our women's empowerment volunteer programs.
Supporting education is one of the best ways to ensure the development of individuals, families, communities and nations. Not only does education increase an individual child's future ability to earn an income, but it is also linked to greater health. Educating girls specifically supports gender equality within a country.
We offer teaching abroad volunteer programs in Cambodia, Costa Rica, Ghana, India, Laos, Nepal, Peru, South Africa and Thailand. On most of these programs volunteers support local educators in teaching English abroad, although they might also support the teaching of other subjects. All our volunteer education abroad programs are aligned to UN SDG 4: Quality Education.
In Costa Rica, Laos and Thailand you can also earn your teaching English as a foreign language (TEFL) certificate by joining one of our teaching internships abroad. If you're looking to learn Spanish while volunteering abroad join our programs in Costa Rica, Mexico or Peru.
Playing sports during the primary years encourages students not only to follow an active lifestyle throughout their lives, but also teaches valuable social skills that will assist them in their future careers.
You can help learners cultivate these valuable skills by volunteering with GVI as a sports teacher in South Africa and India. The sports you might teach include everything from soccer to American football. Introducing students to sports unique to your country and having them introduce sports unique to their country is a great way to discuss cultural differences and helps you gain experience in intercultural communication.
Business
Applying theoretical business knowledge and skills while volunteering abroad, might not be the obvious choice. But business volunteering is growing in popularity. The reason for this is that one of the biggest drivers of social change is business growth. In fact, the first UN SDG is No Poverty.
Becoming a business intern with GVI offers you an alternative to gaining an office-based experience. You'll get the chance to learn industry specific skills directly from the field. Business internships offer you the chance to improve your skills in the following areas:
project management

workshop design and delivery

communications and social media

lesson planning.
You'll also have the opportunity to complete GVI's Foundations in Sustainable Development online course, after which you'll receive a certificate from the University of Richmond.
Participants on other volunteer abroad projects can still work on improving their business skills while contributing towards a positive impact. For example, you might work on your cross-cultural communication skills while teaching English to adults looking to improve their ability to engage with international visitors. This helps them to access greater employment opportunities and assists them in building or growing their own businesses.
Our women's empowerment volunteers will also be helping to directly support local business growth. As one of GVI women's empowerment volunteers, you'll assist women with developing additional vocational skills like being able to complete administrative work on a computer. They also work to develop professional skills like creating a great resume and impressing prospective employers during a job interview. Depending on the needs of the women in the community, you might also assist them with creating their own small business plans and solving micro-business challenges.
All GVI construction programs are closely tied to local community development objectives and aligned to UN SDG 3: Health and Well-being, 4: Quality Education, and 6: Clean Water and Sanitation.
As a result of our stance on construction, volunteers on our construction volunteering programs abroad won't be building houses but will rather be helping to renovate, repair, or build structures such as vegetable gardens and jungle gyms at local schools. All construction materials used on the project are included in the program fee. On-site training for all construction volunteers is also included, and the specific construction project volunteers will complete is overseen by local experts.
Research in international development suggests that women's empowerment can lead to many other benefits for the country. This includes increasing the income of the nation and improved health statistics for both mothers and children.
GVI volunteers support gender equality initiatives in Cambodia, Costa Rica, Ghana, India, Laos, Mexico, Nepal, Peru and Thailand. All GVI women's empowerment programs are aligned to UN SDG 5: Gender Equality.
During these programs you will support women and girls in increasing their access to education, growing their income, discussing gender norms they find restrictive, and developing greater health for themselves, their children and communities. Gender equality workshops might also be held with the greater community, including boys and men.
If you are looking for healthcare related volunteer programs that allow you to ethically volunteer abroad without a medical degree, we suggest our global public health volunteering programs. These programs allow you to gain experience in global public health, international development and education.
During these programs you'll support preventative health education by teaching lessons at local schools or running workshops with adults in the community. All GVI health promotion volunteer programs are aligned to UN SDG 3: Good Health and Well-Being.
GVI operates under the principle of primum non nocere, first do no harm, which is why we don't offer any hands-on medical or veterinary volunteering programs.
For those wondering, "How do I volunteer abroad without a degree?" – GVI focuses on providing ethical options for those looking for unskilled volunteer work abroad. This allows for a wider access to a greater number of participants. We train volunteers up to perform tasks without any risk of causing harm and without putting strain on local staff.
Photography
We are always looking for those with creative skill sets to help us create greater awareness about the objectives of the 17 UN SDGs and the importance of following ethical best practice when communicating complex sustainable development messages.
You can practise their wildlife photography skills at many of our wildlife conservation locations. And our marine conservation locations are the perfect setting to hone underwater photography skills.
Our wildlife photography and conservation awareness program in Costa Rica is the ideal setting for keen photographers looking to snap vibrant species such as the toucan while contributing to data collection initiatives in Tortuguero National Park.
If you're interested in pursuing a career in communications and social media you can join our Communications Internship in Cambodia or our Social Media Internship in the Canary Islands.
Our GVI online writing course is also very popular. It allows budding travel writers to get their work published, gain experience, and learn best practices in sustainable development communications and journalism. Learning about how to speak about critical global issues in a way that is empowering can help you make an impact virtually from anywhere in the world.
Types of Volunteer Abroad Programs
GVI offers international volunteering programs specifically designed for teenagers between 15 and 17 years old. These programs include age-appropriate and impactful volunteer work, guided adventure activities and interactive presentations that allow you to learn about international sustainable development topics in a truly engaging way.
All GVI under 18s programs run during June, July and August to fit with the Northern Hemisphere's summer break. This gives you enough time to travel and fully participate in volunteer activities on the ground.
GVI teen programs are all group programs, which means that you all start the program together and complete all volunteer, travel and adventure activities together. Activities are all guided by GVI staff.
GVI already has an incredibly high staff to participant ratio of one to six, but on most teen programs we ensure that that ratio is usually higher, providing additional support and guidance for teens.
Participants on any of our under 18 volunteer abroad programs also have the option to complete the GVI Online Leadership course six weeks before their departure date. This is an optional, self-paced course that should take around 10 hours to complete. Upon completion of the course, you'll receive a certificate from the University of Richmond (UR).
Flights and flight chaperones are not included in the program fee of teen programs but these can be arranged simply by speaking to an enrolment manager.
GVI specialises in offering the best international volunteer programs for college students. If you aren't convinced that ours are some of the best volunteer abroad programs for young adults available, watch or read some of the glowing reviews submitted by our previous volunteers.
You can join a GVI program all year round, selecting a time that best suits your schedule. Many students choose to travel and volunteer during their summer break, since this gives them the opportunity to complete not only short-term but long-term programs too.
Volunteer programs vary in duration – from 1-week-long volunteer opportunities abroad to 6-month programs.
While GVI programs aren't accredited, college and university students who complete a GVI volunteer or internship program can also apply for academic credit through their academic institution.
Many young adults choose to volunteer abroad during their gap year. Some gap year students choose to volunteer abroad for a year but many only choose to do so for a gap semester. Most choose between 1 month and 6 month volunteering programs.
The great thing about a gap year with GVI is that you can choose from a wide range of focuses and durations. This allows you to make a greater impact and gain a deeper understanding of international development issues at play in the local context. You'll also get to develop a wider range of skills and earn more experience applying these skills to real-world challenges.
If you're looking for a further employability boost, consider joining one of our gap year internships.
Working adults who are looking to make an impact during their vacation or annual leave days can join any of our volunteer holiday programs abroad. Not only will you be contributing toward long-term sustainable development goals but you can also experience the sights and sounds of a new environment and culture.
Those of you who may be feeling uninspired by your current job or career can also use this opportunity to explore a new avenue, and gain skills and experiences that can help you to transition towards something more in line with your passions or interests.
Much of our volunteer work abroad is accessible to older adults. All that is required is that you are physically fit and keen to make a meaningful impact.
The work experience that our over 40 and over 50 volunteers have is especially valuable to our international sustainable development project. And for retirees, these programs can be a great opportunity to make a contribution on an international level using your accumulated skills. The only requirement many seniors volunteers request is an accommodation upgrade, which can easily be provided at most of our locations.
GVI also offers volunteering holidays abroad where all members of the family can volunteer together. Whether you are looking to volunteer as a couple, volunteer with your child, or with senior members of your family, our family volunteering programs are designed for all members of an intergenerational family.
Christmas volunteering is an especially popular option for families volunteering abroad. The only rule is that children must be at least 14 years of age. For each adult member of the family joining a GVI family volunteering program, any member under the age of 18 joining the program will receive 25% off their program fee.
We also offer group volunteering programs. These are perfect for organisations looking to arrange high school trips abroad, university programs abroad or corporate volunteering abroad. Organisations like local clubs and community groups are also welcome to book a group volunteering program with us.
GVI doesn't have any specific religious affiliations, which means we don't offer any specific programs catered to members of the Jewish, Christian or Islamic faiths. We also don't offer mission trips abroad. Persons of all faiths are welcome on any of our volunteering programs, so if your group would like to arrange a custom volunteer abroad program, please get in touch and we will get back to you with a quote and a range of ideas to inspire your group members.
Funding Your Volunteer Abroad Program
How can I volunteer abroad for free?
If you're considering a free volunteer program, we'd recommend that you read our article: Why pay to volunteer abroad.
Free volunteer abroad programs don't always follow ethical best practices in international sustainable development. They are unlikely to be legitimate volunteer abroad programs, which is why we don't offer or endorse them. If, after reading our article, you're still asking "Why do I have to pay to volunteer abroad?" – feel free to contact us for a chat.
Can I get paid for volunteer work abroad?
We don't offer paid volunteer work abroad for students or adults. For us, this goes against what it means to volunteer. The definition of volunteering is a helpful activity for which you don't need to be directly compensated. This being said, the training and work experience provided on all our volunteer abroad programs will put you in a better position to secure employment in the future.
Do you offer cheap volunteer abroad programs?
Be wary of any volunteer abroad organisation that offers cheap volunteer programs. It's unlikely that they follow ethical best practices or have appropriate health and safety protocols.
Before you pay to volunteer abroad always be sure to ask about the specific services that the volunteer abroad organisation will be providing. Are there reviews that show that this organisation will provide the quality of services promised?
GVI doesn't specialise in offering inexpensive volunteer abroad programs, but rather focuses on guaranteeing volunteers that they will reliably make a positive lasting impact, with no risk of causing harm. We guarantee that all our volunteers are secure and supported throughout their journey. We also ensure that volunteers leave their program with skills, experience and often qualifications that will help them in their future career.
We've always been transparent about our finances. To learn more, see our "Where does your money go?" chart. We're more than happy to answer questions if you'd like to talk about how we structure our finances for maximum positive impact for our local partners on the ground.
I want to volunteer abroad but can't afford it
Funding your volunteer abroad program doesn't necessarily have to be a dealbreaker. Take a look to see if we have any scholarships available at the moment. We've also made raising funds for volunteering abroad easier by creating our own fundraising platform.
Simply apply to set up your own GVI fundraising page and start raising money to volunteer abroad. This will allow your friends and loved ones to sponsor your volunteer work abroad. Find ways to fundraise for volunteering abroad by reading our article: 15 of the best fundraising ideas for volunteers.
There might also be other government funding available for you to use to volunteer abroad. Many governments make travel grants available specifically for students volunteering abroad. You can learn more by visiting or contacting your college or university's international education office. There might also be private organisations that offer scholarships for volunteering abroad.
What's included in a GVI volunteer abroad program?
Our volunteer work abroad programs include in-country travel and accommodation required to complete project work. Three meals per day and all the necessary training and equipment needed to complete the volunteer work effectively are also included in the program fee.
GVI teen programs also include chaperoned adventure activities for the duration of their program.
GVI programs don't include flights, but you can book a flight with well-priced airfare through StudentUniverse. You will find a link to StudentUniverse recommended flights on all GVI programs.
Travel or medical insurance for volunteering abroad is not included but we can offer an excellent insurance package for you designed specifically for our international volunteers by our partner, Cultural Insurance Services International (CISI). In case you need a visa, we don't cover visa costs, but our support team will be able to provide you with the information you need to get started with your visa application. They will also be able to assist you with the necessary documentation.
GVI has gained a reputation as one of the top international volunteering organisations over the past two decades. Established in 1998, the long list of awards we've received from leading organisations in our sector and the stellar reviews delivered by the overwhelming majority of our volunteers, has helped us build a name for ourselves over the years as one of the best international volunteering organisations.
Both individual volunteers and volunteer organisations respect us because of our commitment to real, meaningful and lasting impact on international sustainable development challenges. We're committed to applying the latest ethical best practices, informed by external experts, in all our operations, and all our projects around the world are aligned to one or more of the 17 United Nations Sustainable Development Goals.
Our outstanding support and safety services have also won us awards both from our colleagues in the field and praise from our volunteers. Our operational health and safety standards ensure that we are compliant with British Standards 8848, a set of best practice guidelines for adventure tour providers outside the United Kingdom. Each volunteer is also assigned a personal travel support coordinator to help them get everything in order, including their packing list, before setting off on their volunteer trip abroad.
In addition, the quality of training, work experience and qualifications provided on our volunteering programs ensures that the experience not only looks good on both college applications and resumes, but that these skills are actually valuable in the workplace.
We identify as a social enterprise and use the resources provided by our volunteers and interns to support local sustainable development initiatives. This means that we aren't a charity or non-profit organisation, but we do partner with local organisations that might be charities or nonprofits. For example, in Mexico, our volunteers work to support Save the Children. We also raise funds for our local partners through our UK-registered charity, GVI Charitable Programs. Volunteers might be involved in specific fundraising activities with our charity during their time on the program.
Not operating as a charity or government-funded organisation allows us more freedom to find the most optimal ways to contribute to international sustainable development goals in the shortest possible time frame. We're more than happy to discuss our organisational structure at any time. Simply contact us for a chat.
SEE OUR VOLUNTEERS IN ACTION
Download our program brochures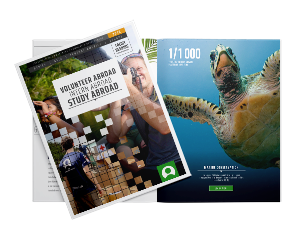 Wildlife Conservation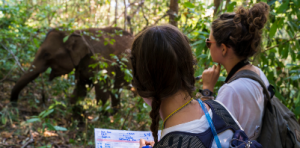 Biodiversity is vital to a healthy ecosystem. These programs focus on the preservation of endangered plant and animal species and provide education to local communities so they can implement long term, impactful approaches to conservation.
Volunteer with Children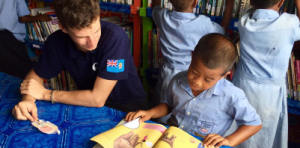 Volunteering abroad with children is a great way to get involved with children's education, improving their health and well-being and equipping them with life-long skills that will help build on their progress in school and in life.
Marine Conservation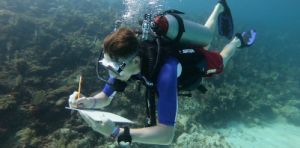 Marine ecosystems are very important for the overall health of both marine and terrestrial environments. These programs focus on restoring damaged marine ecosystems and protecting endangered marine species through conservation.
Animal Care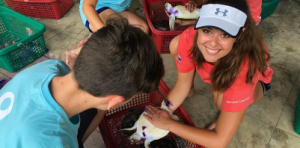 Work with wild animals such as elephants and turtles while volunteering and make a direct impact on the conservation of these endangered species, as well as providing options of alternative livelihoods to the local community.
Teaching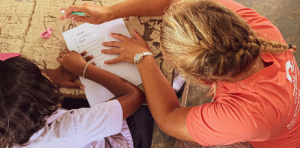 Volunteer to teach abroad and support local teachers in offering English lessons to children and community members. Work to develop their conversational English and enable them to improve their employment and academic opportunities.
Public Health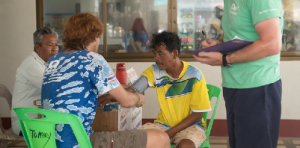 Access to public health varies across countries and is largely influenced by social and economic conditions. Our health programs aim to educate community members in areas such as healthy eating, personal hygiene and preventive diseases.
Women's Empowerment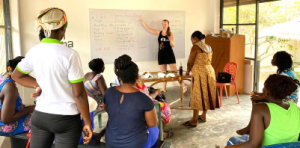 Join our women's empowerment programs to support women and young girls with access to equal opportunities in education, gainful employment, community involvement, education on public health and alternative income workshops.
Construction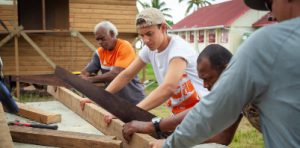 Our construction programs focus on addressing basic human needs and volunteering on sustainable construction projects to help lay the foundations that will set up basic infrastructure in local communities for years to come.
Sport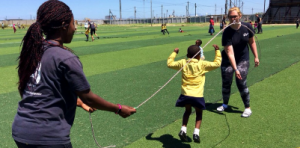 Engage in and help coach a variety of sporting activities with children from the local communities. Sport is recognised as aiding with better concentration, teaching teamwork and can be a great boost to individual confidence.