Tortuguero Rainforest Conservation Teen Volunteering In Costa Rica
Live with other teens on Costa Rica's Caribbean coast while learning about rainforest conservation.
Tortuguero Rainforest Conservation Teen Volunteering In Costa Rica
Live with other teens on Costa Rica's Caribbean coast while learning about rainforest conservation.
Program Code: CRJL0530F
Our Impact
Location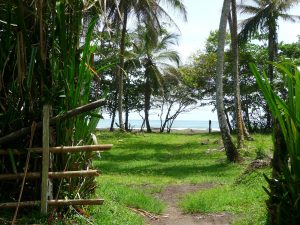 Volunteer in Jalova
GVI's research station in Jalova is found in the stunning Tortuguero National Park, surrounded on three sides by protected rainforest and on the other by the Caribbean Sea and a beach that is home to one of the largest nesting colonies of Green Turtles in the world. Spend your time surrounded by the breathtaking scenery and wildlife of the rich canals, tropical rainforest and Caribbean beaches. There is no road access to this location, so all transportation is via canoe and motor boat, through the stunning canal and river system surrounded by tropical rainforest and wildlife.
Program Information
Program Snapshot
Learn what it takes to become an international conservationist while exploring the rainforests that line the Caribbean coast of Costa Rica. Learn how researchers are working to protect jaguars and other important species.
Overview
Join other teens, aged between 15 and 17, in the middle of Costa Rica's famous Tortuguero National park, to learn about conservation and learn about how to protect important wildlife species and the natural environment. GVI has successfully been operating ethical and responsible programs for under 18s since 2012. Since then, it has treated health and safety as a number one priority and takes extra measures for its under 18 programs. As such, it is also a British Standards 8848 compliant provider.
Spend your time with other teens from around the world and explore Tortuguero National Park while learning about the local ecosystem and the species that can be found there. Find out how researchers, conservation organisations, and national governments use data collection, input, and analysis to preserve the natural environment.
Learn how to identify unique species that can only be found in Costa Rica, go on jungle hikes and canoes down the many forest canals, spotting animals. You might also be enlisted in a beach clean and bird surveys.
GVI has been in operation for over 20 years and we have been working in Costa Rica for over a decade. Our long-term involvement, capacity-building, and commitment to our projects, ensures that our long-term sustainable projects help to achieve our partners' objectives. These local partnerships along with stakeholder discussions drive the service elements of our trips to ensure they are fully focused on the most prevalent issues and produce the results required locally. Each projects' objectives are also aligned to one or more United Nations Sustainable Development Goals.
Throughout this project, teens will be trained, guided, and supported by world-class leaders in the field who have been chosen for their mix of relevant experience and ability to mentor and inspire young people. Greater supervision applies to our teen programs, than our other volunteer programs.
Training and field experience will allow teens to develop skills beneficial to their college applications and future employability. Some of these might include intercultural competency, teamwork, and leadership, by interacting and working with teens from around the world.
The climate is hot and humid, interspersed with refreshing downpours, and participants should be aware that work days can be tiring. It is important to be flexible and adaptable to the changing nature of life in Costa Rica.
Due to the fact you will work in a national park, you will need special scientific permit to approve you for conducting research. Further permits are required for jaguar research. The permit for conducting jaguar research takes about 2 to 3 months to process.
Although all teen participants are greeted by GVI staff at their arrival destination, flight chaperoning services are also available upon request. Chaperones provide on-flight accompaniment, and in-airport assistance. To book this service please contact one of our enrollment managers.
HIGHLIGHTS



Learn what a career in conservation is really like.




Make friends with other teens from around the world.




Observe Costa Rican wildlife species in their natural habitats, including monkeys, neo-tropical birds, and amphibians in the caponies above rainforest canals.



Successfully complete this program and get a professional reference from your program manager. You'll also have the option of earning a certificate endorsed by the University of Richmond if you choose to complete our included online leadership course, which is valued at $495.



Visit an incredibly jaguar-dense area and one of the only locations in the world where jaguars are known to prey on adult sea turtles.




Explore the rainforest by canoe and walk the pristine Caribbean beaches.




Undertake bird surveys to monitor population numbers and different species.




Contribute to jaguar research by setting up and checking camera traps in the rainforest.



Program Details
Itinerary
The following itinerary is an example of the activities and project work that participants might get involved in on this program. More specific details of the program are finalised several months before each start date. The itinerary shown below has been followed by our staff and group volunteers in the past.
Saturday
Welcome to the tropical jungles of Costa Rica. Arrive at the airport where a GVI staff member will be waiting, and travel with other teens to where you'll stay overnight.
Sunday
Today you'll travel to Tortuguero National Park, a protected area in Costa Rica where you'll learn about the work being done to conserve species like turtles and jaguars.
Monday
Help researchers collect data about the health of the jungle. Later, set up remote camera traps to spot elusive jungle species like jaguars and learn how to monitor sea turtles.
Tuesday
Walk the Carribbean beach at sunrise, looking for mother sea turtle tracks and new nests. Learn more about how sea turtle monitoring works later during the day.
Wednesday
Canoe down the rivers of Tortuguero National Park noting the many tropical birds along the way. Head out at night to spot mother sea turtles making their nests on the beach.
Thursday
Trek through the forest again, spotting tropical wildlife along the way. Later, learn more about what local organisations are doing to protect these species and natural habitats.
Friday
Spend the weekend white water rafting down the Pacuare River with your new friends. A true adrenaline rush, the river features rapids up to class IV.
Saturday
Spend the weekend white water rafting down the Pacuare River with your new friends. A true adrenaline rush, the river features rapids up to class IV.
Sunday
Spend the weekend white water rafting down the Pacuare River with your new friends. A true adrenaline rush, the river features rapids up to class IV.
Monday
Learn about the conservation work conducted by Tortuguero National Park management and representatives from the Sea Turtle Conservancy.
Tuesday
Trek through the jungle noting local wildlife species. Then, at night, walk along the Carribean Sea looking for nesting mother sea turtles.
Wednesday
At sunrise, look for sea turtles. Then you have the option of either looking for wildlife species on a jungle trek or looking for birds while on the river boat. At night, look for sea turtles.
Thursday
Today you could either travel the jungle canals looking for birds or carry out another biodiversity survey. In the evening all volunteers can help look for mother sea turtles.
Friday
Tour the Costa Rican city of San Jose on foot. Visit local markets, sample exotic fruits, and take in the laidback lifestyle known in Costa Rica as pura vida.
Saturday
Say a tearful "adiós" to the beaches, jungles, and wildlife of Costa Rica. Reflect on the friends you've made and how much you've learnt about conservation while abroad.
Flexibility
Change your location and dates free of charge.
Payment Plans
Flexible payment plans available.
Cancellation Waiver
Cancel anytime and receive a full refund minus your deposit.
Covid-19 Response
Health and Hygiene
For over 20 years, GVI has prioritised the health and safety of our staff, participants, partners and local community members. In response to the global COVID-19 pandemic, GVI has created the GVI health and hygiene team to put in place new standards of cleanliness, norms and behaviours that meet or exceed international recommendations to ensure the ongoing safety of GVI's participants, staff and communities around the world. Internationally recommended practices, such as advice from the World Health Organization (WHO), the Centers for Disease Control and Prevention, and the governments Australia, UK and US, continue to be monitored and the standards are likely to change if and when international advice changes.
The work GVI is contributing to across the globe remains important and the following measures allow our participants to continue to join GVI's programs and continue impacting positively on their world and the communities we work with. The following changes to our existing protocols have been made by the GVI health and hygiene team to strengthen our health and hygiene protocols and ensure that international standard safeguards are in place to protect our participants, staff and host communities.
Download our Travel Smart Checklist
Essential information you need to travel safely during the COVID-19
pandemic – including destination ratings, flight bookings, and tests.
What's It like?

If you'd like to find out what the experience of joining a GVI project is really like, simply contact us and we'll put you in touch with one of our many Alumni.
We'll try to match you to an Alum based on your location, nationality, age, stage of academic career, gender, and program interests. This allows you to gain insights into the experience that is most relevant to you.
Depending on your location you might be able to speak to an Alum over the phone or online, or meet up with them face-to-face at a coffee shop nearby. We also run a series of small events around the world where you can speak to GVI Alumni, Ambassadors and staff members.
Live Updates
Follow GVI Jalova's Facebook page for live updates straight from the field. Get an idea of the types of projects you might be involved in, meet our staff and participants, experience life on this GVI base, hear about free time activities, and learn about the local culture and environment.
Arrivals Info
When it comes to support, we ensure that each participant is provided with unparalleled, 360 degree support, from their initial contact with us, all the way through their program, and even afterwards, when they become part of GVI's Alumni network.
Flight chaperoning services are available for all our under 18 participants. To book a chaperone simply speak to one of our enrolment managers. Upon arrival at the airport, participants will be greeted by a member of our in-country staff, who will be wearing a GVI t-shirt or carrying a GVI signboard, and will always be wearing a friendly smile. From there, participants will journey to their accommodation and meet up with other volunteers in their group to start their GVI adventure.
COVID-19 Safety
Please note that the above images were taken pre COVID-19. All airport pick-ups and program operations now run with enhanced cleaning and social-distancing measures in place. Learn more
Flights
Please note that if you use this service delivered by Student Universe and / or if you buy your ticket through this portal you are agreeing to the Student Universe Privacy Policy and Terms and Conditions. Your agreement regarding flights will be between you and Student Universe or as per their terms and conditions.
As GVI is providing this portal as a service we are not responsible for the accuracy of this site.
We are also not responsible for any loss, damage (including loss of profits or consequential damages), injury, illness, harm or death in relation to your flight and travel arrangements.
Download our Travel Smart Checklist
Essential information you need to travel safely during the COVID-19
pandemic – including destination ratings, flight bookings, and tests.
Your Impact
All of our programs have short, mid and long-term objectives that fit with the United Nations Sustainable Development Goals or UN SDGs. This enables us to report on our collaborative impact across the world in a streamlined manner, measuring which UN SDGs we are making a substantial contribution to. Furthermore, this will help our local partners and communities measure and visualise their contribution to the UN SDGs.
Prior to your arrival on base, you will be educated about the history of the UN SDGs. Then, once on base you'll learn about the specific goals of your location, the long-, mid- and short-term objectives, and also clarification of how your personal, shorter-term involvement contributes to these goals on a global level.
Our aim is to educate you on local and global issues, so that you continue to act as active global citizens after your program, helping to fulfil our mission of building a global network of people united by their passion to make a difference.
Tortuguero National Park is a key area for many interlinked conservation efforts. It is a popular nesting area for vulnerable and endangered sea turtles. It is also a natural stronghold for jaguars and the only place where these cats are known to prey on sea turtles. It is also home to several insect, amphibian, reptile, mammal, and bird species identified as important or the health of the local ecosystem, global diversity, and international research by the Costa Rican Ministry of Environment, Energy, and Telecommunications or MINAET.
Rainforest Biodiversity Surveys

We assist MINAET with conducting a Biological Assessment Survey or BAS of the four major habitat types around our area of Tortuguero Park. We note a wide range of species on our surveys which are of interest to MINAET including the Rain Frog, Red-eyed Treefrog, two species of Toucan, Baird's Tapir, Spider Monkey, Mantled Howler Monkey, White-lipped Peccary, Eyelash Palm Pitviper. Staff and participants walk a several marked path in the forest noting sighting, tracks, and vocalisations. Only species identified with 100% certainty can be recorded. The data is sent to MINAET who use a standardised methodology to monitor the condition of each trail over time. This helps them to understand the health of the local environment and whether their current conservation efforts are working.
Sea Turtle Research

We also assist the Sea Turtle Conservancy, or STC, with sea turtle research and protection, by patrolling the Southern end of 18 mile stretch of Tortuguero National Park using internationally recognised protocols during turtle nesting and hatching season, from around March to December each year. The STC patrols the northern stretch.
Tortuguero has played a key part in the conservation of sea turtles worldwide. Archie Carr, the pioneering American conservationist, began his studies of green turtles in Tortuguero in 1954 and since 1958 the STC, has continued work on green turtles, which are currently endangered, and the other turtle species, like the critically endangered hawksbill, and vulnerable leatherback, who frequent this area.
From April to October, a team walks the beach each night looking for nesting sea turtles.
Depending on the time of year, it is possible to do several walks without seeing a turtle, or see multiple ones in one night. When a turtle is encountered, different kinds of research activities might be carried out, depending on what stage of the nesting process she is in from emerging from the sea, selecting a nest site, digging a body pit, and digging her egg chamber to laying her eggs, covering her egg chamber, disguising her nest, or returning back to sea. This might include, checking for distinctive markings to see if she has been to the beach before and make a note for future researchers if she returns, tagging her flippers, measuring her carapace, counting her eggs, marking her nest, or checking for abnormalities in the mother turtle or eggs.
From April to November a team patrols the beach during the day to look for nests that were marked previously to determine whether any of the nests have hatched, been eroded by the sea, been attacked by predators like jaguars, or been poached by humans. This information is used to investigate whether any areas of the beach are more susceptible to nest loss. Depending on the season, we also take note of mother turtle tracks from the previous night.
Between June and December, hatched nests are excavated to determine hatchling success and survival rates, reason for losses in egg development, and determine the actual status of the nests including whether or not they were partially or fully poached.
Throughout the year our teams carry out beach cleans to ensure a good nesting place for mother turtles and an uninterrupted passage for hatchlings to make their way to the sea.
Jaguar Population and Turtle Predation Research

The jaguar is the only member of the Panthera or 'big cat' genus found in the the Western Hemisphere. The International Union for the Conservation of Nature, or IUCN, Red List has given the jaguar the status of being 'near threatened'.
Tortuguero is a haven for jaguars, having possibly one of the highest populations in the world. This makes it an excellent location for studying jaguar behaviour. However, it also means there is a great responsibility on park authorities and the Costa Rican government to ensure that threats as a result of human activity like poaching, habitat and food source degradation do not threaten jaguar numbers in Tortuguero. Tortuguero is also one of the only places in the world where jaguars are known to feed on adult sea turtles. There has also been concern that the number of sea turtles preyed upon by jaguars has been increasing.
We assist MINAET with estimating the minimum number of jaguars using the coastal habitat inside Tortuguero National Park, identifying the availability of prey species in the area, noting any changes in jaguar feeding behaviour, and determining whether the predation of marine turtles by jaguars is having an impact on the marine turtle populations. This helps the Costa Rican Ministry of Environment develop well-rounded and consistent conservation policies. To improve and expand our research, we collaborate with Panthera and Coastal Jaguar Conservation.
Direct observations of jaguars can be very difficult to achieve because of their elusive nature. Several projects of elusive species worldwide have turned to remote observation techniques in order to estimate population sizes, for species in which individuals are identifiable by markings, or relative abundance, for those species in which individuals are not identifiable. Camera trapping projects have been used to estimate tiger density within national parks in India and ocelot densities in the Pantanal region of South America to name a few. Other projects in Costa Rica such as the Tropical Ecology Assessment and Monitoring Network, or TEAM Initiative from Conservation International and Wildlife Conservation Society, or WCS, Jaguar Project in Corcovado National Park have also had success with camera trapping of jaguars. We started our jaguar camera trap program in 2006 and it has been constantly evolving ever since as new, more effective methodologies continue to be developed.
From February to November, our team walks a 15-mile stretch of the beach starting in the early morning to note jaguar tracks and check on permanent camera traps set up to ID new or known jaguars in the area. Permanent cameras are set up in areas of known jaguar activity in the vegetation lining the beach. A scent station might be included to halt the jaguar in their progress so that a clearer picture of their rosette pattern markings can be taken for use in identification. We also collect jaguar scat or faeces for use in jaguar feeding behaviour and genetic studies.
During turtle nesting season, from March to October, we also monitor the number of sea turtles preyed upon by jaguars. When a predated turtle is found we note the species of turtle, assign an identification number, and check for tags. We also record the time and location, biometric data, and a description of the style of predation. Killcams are set up on predated turtles to witness jaguar behavior as they return to the kill. In addition, data is collected on weather and beach conditions at specific areas.
Aquatic Bird Research

We also monitor 30 aquatic bird species identified by MINAET as important indicators of the ecological health of the National Park as a whole. These include exotic ave species like the neotropic cormorant, the rufescent tiger-heron, the cattle egret, the green ibis, and the amazon kingfisher. Early morning surveys are conducted on canoe along five of Tortuguero's canals and last approximately 3 hours. Species are identified and specifics such as their sex and breeding behaviour are noted. The aim of this project is to help researchers and governmental authorities understand when and where resident species migrate to. It is generally believed that seasonal migration takes place within Costa Rica but details are lacking. It also helps MINAET with developing an accurate management plan for Tortuguero National Park. In addition, we collect information on all incidental species seen on the canals. Sightings of megafauna like endangered manatees are extremely important to MINAET as they provide evidence towards justifying the boundaries of the National Park and whether to extend them.
As such, the specific United Nations Sustainable Development Goal we work on in Tortuguero park is #15, Life On Land.
Our Partners In Jalova
Project Objectives
GVI Jalova's Long-term Objectives:
1. Increase scientific knowledge of Tortuguero National Park.
2. Increase awareness of GVI Jalova projects and the ecological value of the Tortuguero National Park.
3. Build local capacity to support long-term conservation of biodiversity and sustainable community development in Costa Rica.
4. Continue to minimize our environmental impact on Tortuguero National Park and raise awareness of environmental issues amongst volunteers and visitors.
Publications
The best decisions in international development and conservation cannot be made without accurate and up-to-date data or informed research. Our many field teams around the world collaborate with local and international partners to analyse data and draw conclusions. In addition, many of our participants have used research they have collected on their various GVI projects to complete their Masters, Doctorate, or postdoctoral studies. We also run a fellowship program which connects postdoctoral researchers at globally-respected universities with our many sustainable development programs around the world to support their research and ensure continuous improvement of our best practices on base.
Scientific Publication
Precipitous decline of white-lipped peccary populations in Mesoamerica
2020
Annual Report
GVI Costa Rica Jalova Annual Achievement Report
2019
Stephanny Arroyo Arce and Ian Thomson
Achievement Report
Coastal Jaguar Conservation Annual Achievement Report
2018
Stephanny Arroyo Arce, Ian Thomson
Scientific Publication
'Accumulation and Changes in Species found within the Southern end of Tortuguero National Park, Costa Rica, for the past 7 years.'
2017
Mesoamericana – Revista Oficial de la Sociedad Mesoamericana para la Biologia y la Conservacion
Brett Megan & Hawkins Victoria
Conference Poster
'Accumulation and changes in species found withing the Southern end of Trotugeuro National Park, Costa Rica for the past 6 years.'
2016
Mesoamerican Society for Biology and Conservation Symposium Belize 2016
Megan Brett
Scientific Poster
'Impact of jaguar Panthera onca (Carnivora: Felidae) predation on marine turtle populations in Tortuguero, Caribbean coast of Costa Rica.'
2015
Revistar de Biologia Tropical
Stephanny Arroyo-Arce1,2* & Roberto Salom-Pérez3
Scientific Publication
'First record of Puma concolor (Carnivora:Felidae) in Tortuguero National Park.'
2014
Stephanny Arroyo-Arce1 & Roberto Salom-Pérez3
Journal Article
'Jaguar Panthera onca predation of marine turtles: conflict between flagship species in Tortuguero, Costa Rica.'
2012
Fauna & Flora International, Oryx
D. Veríssimo, D. A. Jones, R. Chaverri And S. R. Meyer
Scientific Report
'Observaciones de la avifauna en el area de Jalova en el anyo 2010 en el Parque Nacional Tortuguero.'
2011
Zeledonia, Boletin de la Asociacion Ornitologica de Costa Rica
Jonathan Groom
Conference
'Priceless Monitoring without cost:the significance of incidental detection of species in conservation efforts.'
2010
Mesoamerican Society for Biology and Conservation Symposium
David Jones, Diogo Verisimio, Rebeca Chaverri
Conference Poster
'Ecotourism overflow: local implications of restrictive conservation management.'
2009
XXIII Mesoamerican society for Biology and conservation Symposium, Belize
Sarah Durose, David Jones, Rebeca Chaverri
Field Report
'Playa Norte Marine Turtle Conservation & Monitoring Programme.'
2008
Leatherback season report 2009
Stephanny Arroyo Arce David Aneurin Jones
Field Report
'Population dynamic between Coastal jaguars (Panthera Oca), sea turtles and nest predators in Tortuguero Costa Rica.'
28th International Sea turtle Symposium
Stephany Butera, Jaime Restrepo
Our Ethics
Below is a list of core ethics and best practices we believe are essential to the operation of high quality, ethical volunteer and sustainable development programs. We believe that all responsible volunteer and sustainable development operations should focus upon these principles. If you are considering volunteering, these are some of the key considerations you should question, to ensure that your time and money contributes towards positive change.
We want to constantly develop our own understanding of ethical best practice. In so doing, we aim to provide an exemplary industry standard for other education institutions, international development organisations, and social enterprises. Our Badge of Ethics stands for the drive to always do good, better. Find out more, click on the Badge below.
Our 10 Ethical Commitments
Locally Driven, Collaborative Projects
We aim to design all our projects in collaboration with local organizations and communities and ensure that they are locally driven.
Clear Objectives & Sustainable Outcomes
We aim to clearly define short-, mid-, and long-term objectives with sustainable outcomes for all our projects.
Impact Reporting
We aim to track, record, and publish the impact of each of our projects.
Working Against Dependency
We aim to build in-country capacity by assisting local organizations in becoming self-sustaining.
Responsible Exit Strategies
For each local organization we work with, we aim to have a plan in place for withdrawing support responsibly.
Clear Roles & Specialized Training
We aim to ensure that every participant is assigned a clear role and that they are fully trained and supported to carry out their work by specialized staff.
Respect for all
In all our actions we aim to respect the skills and efforts of all and seek to protect the rights, culture and dignity of everyone who engages with GVI.
Local Ownership
We work to ensure that credit for the results of any project, along with any data collected, research conducted, or Intellectual Property developed, remains the property of local organizations.
Transitioning from the Orphanage Model
We do not condone and aim to withdraw support of orphanages and residential care centers.
Child and Vulnerable adult policies
We will live by our Child Protection and Vulnerable Adult policies.
Continual Development
As an organization, GVI is committed to striving toward best practice, and to educating both our potential participants, our partners, and the world at large about them. Both the volunteering and sustainable development sectors are increasingly, and rightly, under scrutiny. Many recent local and global articles highlight poor practices and questionable ethics. GVI is widely recognized for striving to apply global best practice in the volunteering, education and sustainable development sectors throughout our operations by reputable organizations such as ChildSafe.
However, global best practice is always evolving and we dedicate both time and resources to engage with internationally respected experts and learn from the latest research to ensure our programs both fulfil their potential to create maximum positive impact, and minimise their potential to create unintentional negative impact. Along with and as part of the sustainable development and volunteering community, we are constantly learning and applying this learning to practice. We do not always get everything right, but we seek feedback from our community members, partners, participants and our staff, and react accordingly. We know are already doing a great job, and feedback we have received confirms this, but we aim to do even better and are continuously refining our operations to improve upon our already excellent reputation.
Program Ethics
NO ENTERTAINMENT-BASED ACTIVITIES
We don't support the use of wild animals for entertainment purposes. This includes riding animals, having them perform tricks, feeding or bathing them or getting close to them to take photos
NO ORPHANED ANIMAL SANCTUARIES
We don't encourage, support or allow the rearing of "orphaned" wild baby animals kept at a "sanctuary". The conservation value of these types of programs is negligent and would only ethically be used in extremely rare cases
GUIDELINES FOR TOUCHING OR MOVEMENT RESTRICTION
When wild animals are restricted for conservation purposes we follow the guidelines of Fair Trade in Tourism South Africa (FTTSA), approved by the Global Sustainable Tourism Council.
ANIMAL WELFARE GUIDELINES
We ensure that the Five Freedoms of Animal Welfare are followed. These include the freedom to express normal behaviour and freedom from distress, discomfort, hunger, thirst, fear, pain, injury or disease.
LOCAL COMMUNITY EMPOWERMENT
We ensure that conservation efforts are also always locally led, that community needs are front-and centre of any conservation effort and that our participants, projects and partners work to increase local community engagement in local conservation efforts.
NO VETERINARY PROGRAMS
We don't offer any veterinary programs or animal rescue and rehabilitation programs. We don't allow participants to do any work they would not be able to do in their home country.
Qualifications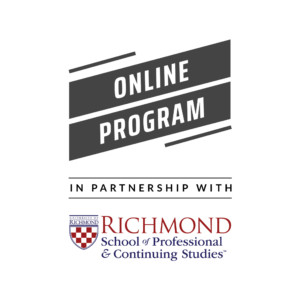 GVI Online Leading Teams for Impact course (optional)
Leadership is a critical skill set for anyone looking to make an impact or drive sustainable development. Develop your own leadership style and learn how to set achievable objectives, give effective feedback and manage conflict successfully. After successfully completing the course, which you have the option of doing prior to your in-country program, you'll receive a certificate from the University of Richmond.
This online course, valued at $495, is included in all volunteering programs. Full course details can be found here.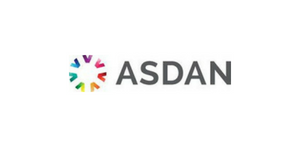 ASDAN Universities Award
The Award Scheme and Development Accreditation Network (ASDAN) Universities Award is an internationally-recognized certification which can be requested for any participant who has completed a GVI teen program. The award can be added to personal statements to boost college or university applications. The course involves introducing students to exploring skills like global awareness through volunteer travel and career paths through work activities.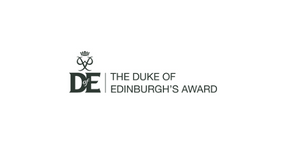 Duke of Edinburgh Award
Young British nationals looking to earn their Gold Duke of Edinburgh Award and improve their employability can use GVI's teen programs to complete several of the required components like volunteering, physical fitness, skills-development, completing an expedition, and learning how to thrive in a residential context. The Duke of Edinburgh Award can be used to enhance your personal statement on your UCAS application.
Parent Info
'If only every student could do this. It changes your life in all the right ways,' says Chris Heritage, parent of Luke Heritage, one of our teen volunteers who has participated on two GVI programs, one in Costa Rica and another in South Africa.
We are a parent-run organisation that is incredibly serious about health and safety, and increasing the impact, as well as the long-term career benefits of our programs. Our programs help young people develop the skills to select a career path that is personally fulfilling, and live a life aligned to the well-being of our planet and the global community.
Ken and Linda Jeffrey, whose son Sam volunteered with GVI in Thailand, talk about how the experience affected Sam. He also went on to volunteer with GVI again in South Africa. 'I know it sounds like a cliche but in a sense, he did go away as a boy and he came back as a young man. Both of us could recommend GVI without any hesitation to any other parent thinking about exploring an opportunity for their children to explore the world and to see different parts of it.'
Parent Info Pack
Download the Parent Pack and learn more about:
Our staff: All our projects are run by staff, selected, vetted, trained, and managed by our central office.
Health and safety: Our safety practices include a child and vulnerable adult protection policy and high participant ratios.
Staying in touch: See what's happening on base, by following a hub's dedicated Facebook page.
Free parent consultations: We would love to talk to you about exciting opportunities available for your child.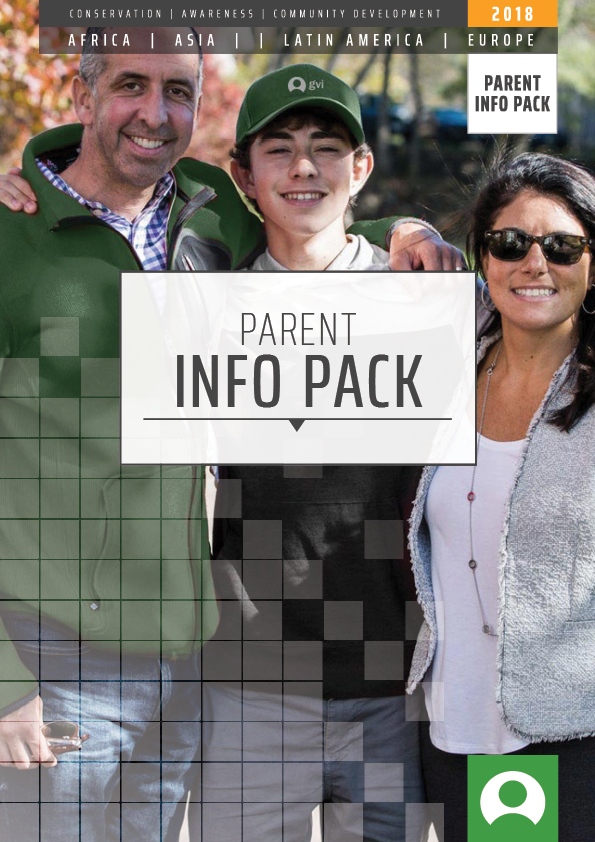 Support & Safety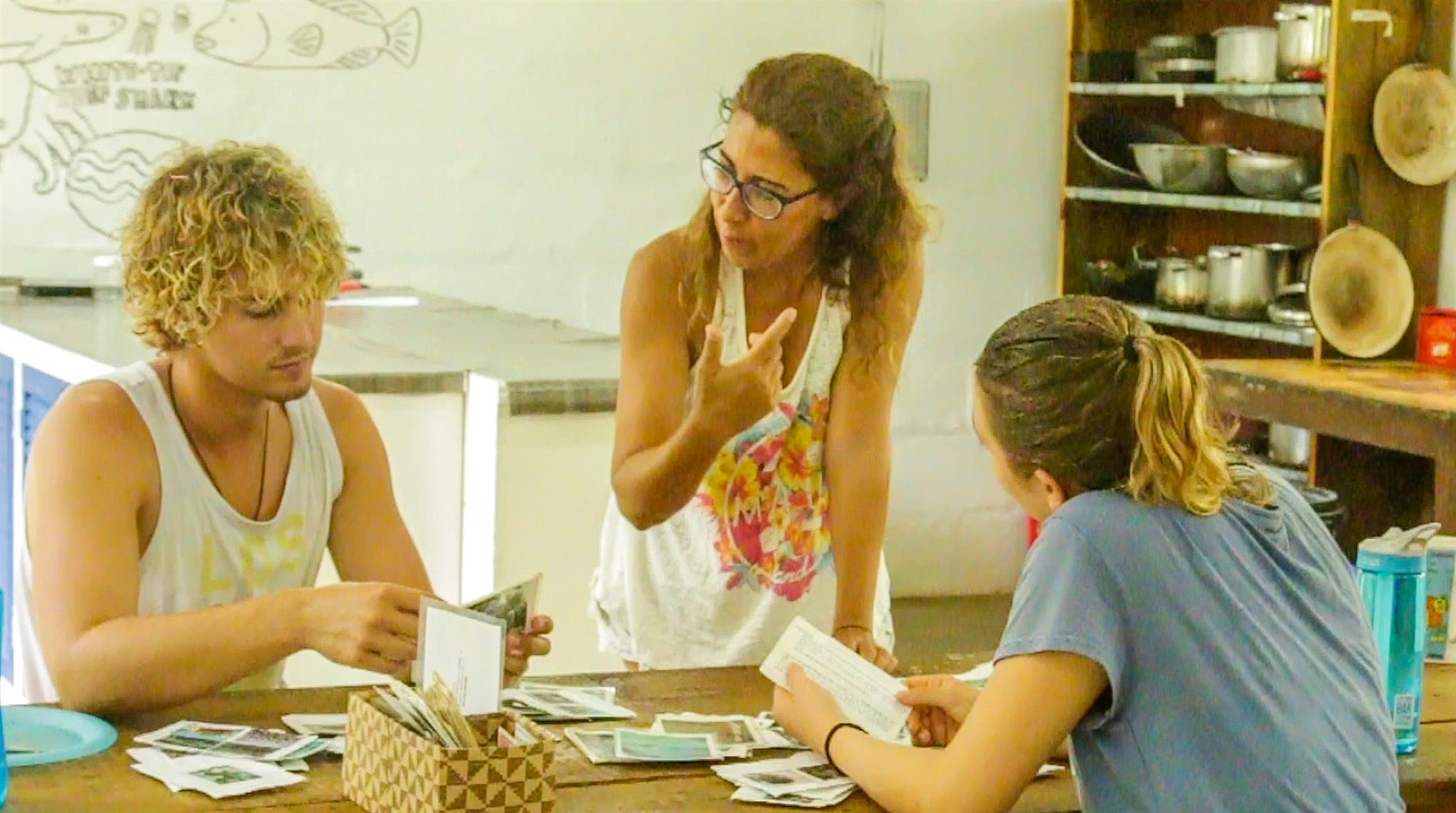 We won't sugarcoat it — traveling abroad is usually a complex process that carries an element of risk. But this is exactly why we're passionate about providing extensive support throughout the process as well as the highest safety standards during the in-country phase. We believe that volunteering abroad should not only be impactful, but an enjoyable experience that carries as little risk as possible. This is exactly how we've been able to maintain our reputation as the most highly respected volunteering organisations in the sector over the past two decades.
COVID-19 Safety
Enhanced cleaning and social-distancing measures are in place throughout each GVI program. Learn more.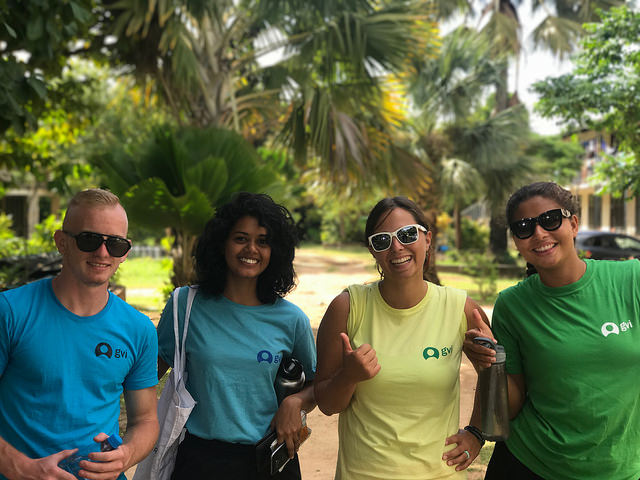 Support
Once a participant books, they will be assigned a personal support coordinator who will oversee their pre-departure journey. The support coordinator helps to bridge the gap between program enrolment and arrival at one of our field bases. Your personal support coordinator will ensure that you are provided with all the necessary information required to apply for visas, background checks, and any other documentation.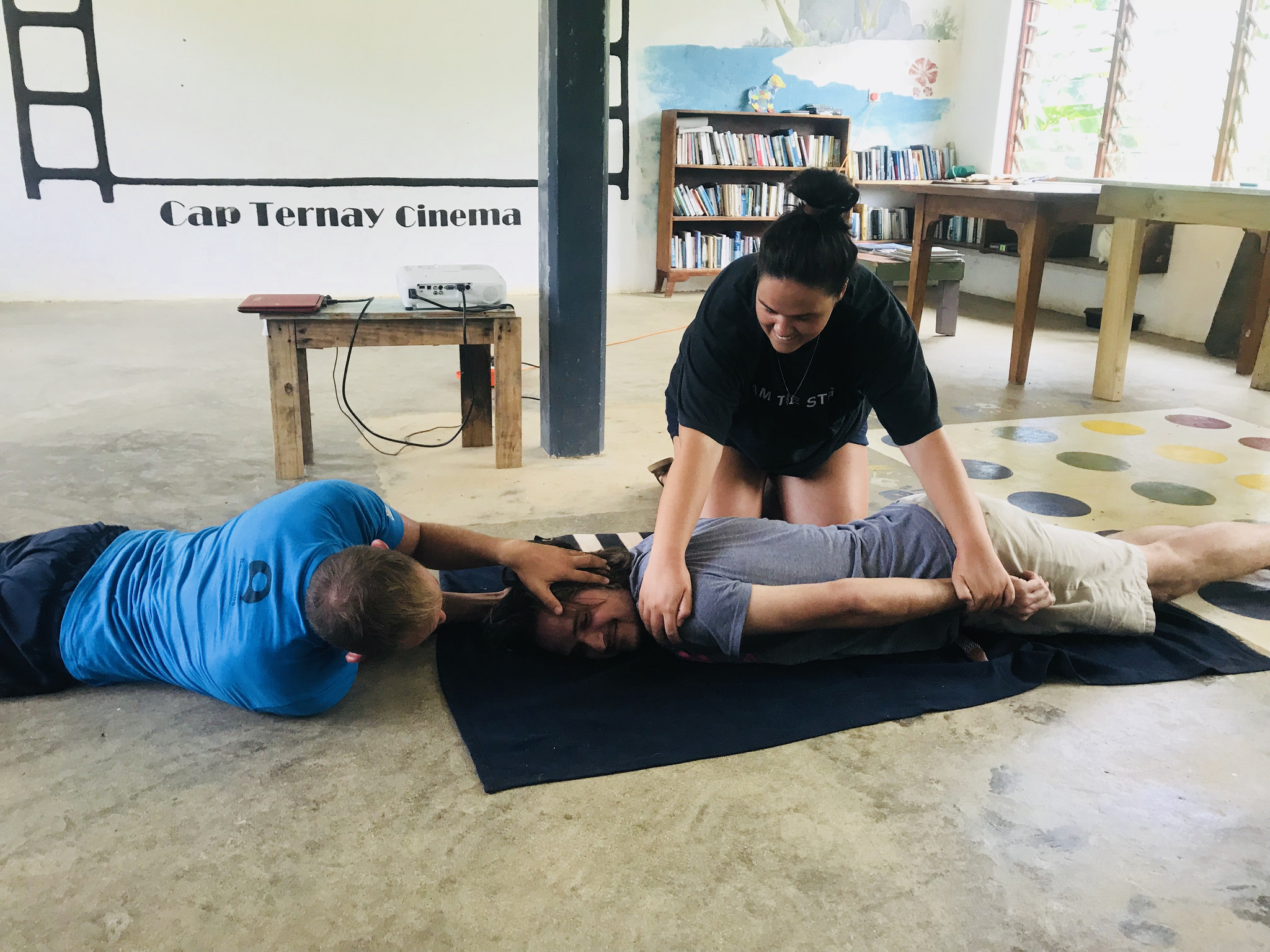 Safety
Upon arrival at the airport, participants will be greeted by a GVI staff member. All GVI staff are our own and all our programs around the world are run by our staff. All GVI field staff are background checked, Emergency First Response and safety trained. The minimum staff to participant ratio on GVI's programs is one to six, although on several bases we have a ratio of one to three. When finishing the experience, participants will provide feedback on all aspects of their program.
Download our Travel Smart Checklist
Essential information you need to travel safely during the COVID-19
pandemic – including destination ratings, flight bookings, and tests.
Health & Safety Case Studies
What's Included
24-hour in-country support
Airport pick-up (unless otherwise stated)
Extensive pre-departure service
Adventure and cultural activities
Food (except on long-term internship placements)
Safe and basic accommodation (usually shared)
Certificates & Achievements
Exclusions
Similar programs you may be interested in:
Subscribe to our newsletter for program updates and access to scholarship offers.
Contact Us
GVI
1155 North Service Road West, Oakville, Ontario, L6M 3E3, Canada
Learning Provider Number (LPN): 10002692
Centre Number: 17067

Contact Us
GVI
1155 North Service Road West, Oakville, Ontario, L6M 3E3, Canada
Learning Provider Number (LPN): 10002692
Centre Number: 17067