||GVI has allowed us to expand our program of safeguarding at risk children||
||GVI's dive safety standards are exemplary||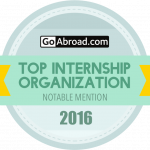 Intern abroad with GVI and choose one of our award-winning internship programs based in stunning locations around the world! Make a sustainable impact, develop your vocational skills and gain invaluable experience to boost your resume and kickstart your dream career.
GVI has been operating sustainable programs worldwide for over two decades, enabling participants to make an impact while they do the groundwork for their futures. We offer internships in a variety of focus areas in 13 countries around the globe.Take a look at our wide range of internship abroad programs to find a project that will match your interests and career aspirations.
Take the first step towards a bright future and spice up your resume with one of our various internship options, starting from six weeks and ranging up to 6 months! Combine our projects for unique multi-country combos, become an international expedition team member, take a gap year with a difference, or make a sustainable impact on one of our volunteer abroad programs.
If you are studying, speak to our Country Experts about receiving academic credit. Gain hands-on practical skills and contribute towards your university or college qualification.
Download our program brochures