International Business Internships Abroad
Rise above your peers by proving your ability to solve real-world business problems in a challenging emerging market setting abroad.
GVI international business internships are career advancement programs designed to boost your capacity to succeed in a global marketplace. Interns are partnered with low-resource startups in unique international locations where they are guided through the process of designing and implementing effective strategies in the complex, high-risk environment of a developing economy. Our global business internships allow graduates to work on projects that directly affect a small business' bottom-line. No more case studies. This is real business without a net.
Projects are selected for interns by our triple-crowned partner, The University of Cape Town's Graduate Business School. Business theory, cultural and contextual orientation, and leadership development are provided by an assigned GVI mentor, and mock interviews with a mentor ensure that interns are able to present achievements to potential employers in a compelling manner. The high-intensity challenges coupled with the hands-on guidance provided by GVI international internships have ensured that previous interns have secured positions at global organizations like Emirates and Google.
Placements are available in:
Business Management And Administration

Accounting And Finances

Marketing And Sales
If you are looking to find out how to get a business internship for this summer or fall, simply apply. Applications for GVI international business internships are open year-round. No previous work experience is necessary and projects available are suitable for any candidate at a college level from freshmen and final year business majors, to recent graduates and those looking to complete their MBA.
TYPES OF INTERNSHIPS FOR BUSINESS MAJORS
Depending on your field of interest, you will be partnered with a business where your knowledge and skills are most critically required. This ensures that you will be able to have a tangible impact on the organization's overall performance during the course of your internship.
Business Management Internships
Demonstrate your talent for leadership by developing strategies to tackle real issues faced by actual businesses. Map out the internal and external strengths, weakness, opportunities, and threats of your partner organization and help them identify and act on their specific competitive advantage. In the process, develop your critical and creative abilities as well as your powers of persuasion. This program is an excellent choice for ambitious young students looking to step up to an executive position, start out on their own, or go into a consulting direction.
Accounting and Finance Internships
Prove your organizational prowess and ability to get a business' finances in order, creating a solid foundation for future growth. Analyze a company's financial health, identifying wastage, potential risks, and the most profitable revenue stream. Ensure businesses are compliant with all necessary regulations and prepare statements for loan applications. Develop two highly sought-after skills in the modern financial manager, global competency and communication skills.
Marketing And Sales Internships
Show that you can get the word out there and how your efforts have boosted sales, by developing and implementing marketing strategies for young startups. Identify the obstacles standing in the way of greater brand awareness and use your knowledge of customer behaviour and cutting-edge engagement platforms to develop targeted solutions. Ideal for those looking to prove themselves as creative, data-driven strategists, any given project might encompass diverse interests including market research and brand management.
Currently we offer business internships in one of our 20 locations worldwide. Fortunately, this one destination has enough cultural diversity, gorgeous scenery, adrenaline-packed outdoor activities, eateries, and vibrant shopping districts any traveler could ask for.
Business students interested in an internship abroad can join us in Cape Town, South Africa, famous not only for its natural beauty, but also for the inspiring inventiveness of its people. Interns will stay in twin ensuite rooms in one of Cape Town's trendiest Central Districts and travel daily to work with entrepreneurs operating in the surrounding informal settlements.
Projects will be selected for interns by liaisons at Solutions Space, a business incubator set up by The University of Cape Town's Graduate Business School, a triple-crown institution looking to foster more collaborative efforts between local business owners and graduate business students.
On the weekends, they'll be able to experience all that Cape Town has to offer including Table Mountain and the unique biodiversity of the area. Experience the mountain by taking a hike, going rock climbing or paragliding. Take a dip in the ocean, go surfing or diving. You can also visit some of the unique designer shopping districts of this city such as the Woodstock Exchange.
We are incredibly excited about the prospects of our Cape Town business program and will soon be exploring other international business internships opportunities in new destinations like India.
You will walk away with:
* Tangible proof of how you brought real value to an actual small business.
* A well-crafted version of your success story to discuss with recruiters and hiring managers.
* At least one deliverable, such as a business or marketing plan.
* A personal recommendation from your mentor.
* An enhanced capacity to navigate the wide range of local cultural variables that characterize the global marketplace.
* Greater confidence in yourself as a leader.
* Evidence of your ability to make decisions and follow through in a team context.
On the internship you will receive:
* Real-world work experiences.
* Lecture series on business basics and the option for further study concerning business in an emerging market context.
* Weekly check-in sessions and interview prep with your assigned mentor.
* Cultural orientation and awareness training.
* The GVI Leadership Course.
* Accommodation, meals, and transport.
WHY A POLICE CLEARANCE IS NECESSARY
We have a strict Child and Vulnerable Adult Protection Policy to protect both our participants and the children and vulnerable adults on some of our projects. All our participants are required to complete either a Disclosure and Barring Services Check, Police Clearance, or a National Background Check depending on their country of origin.
Download our program brochures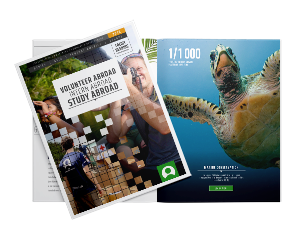 Learn about GVI's new International Business Internships
Hear how GVI's
Business
Internships
 contribute to the UN Sustainable Development Goals
Learn how GVI's Business Internships are uniquely different from typical office-based internships
OUR International Business Internships Abroad