Program Details
Code: LALP0531F
Laos Cultural Immersion Teen Volunteer Program
Embark on a Southeast Asian cultural adventure with other teens in the gilded ancient capital of Luang Prabang, Laos.
Our Impact
Location

Volunteer in Luang Prabang
Luang Prabang is the former royal capital of Laos, a relaxing town located on the Mekong River, about 900 km northeast of Bangkok, Thailand. The fusion of French and Asian culture and charm make for a wonderful setting to experience a unique culture. The 200-year old Wat Siphoutthabat stands at the base of Mt. Phousii in the heart of historic Luang Prabang, the largest school for monks in the city. The surrounding hills contain traditional villages, waterfalls and other scenic pleasures.
Program Information
Join a group of international teen volunteers in Luang Prabang, the ancient capital of Laos, to participate in a cross-cultural exchange with local Lao students. Learn about the diverse cultures of Laos, how Theravada Buddhism is practiced, master the basics of the Laos language, and explore the pristine tropical landscape by visiting local sites such as the cascading turquoise pools of the Kuang Si Falls.
Overview
Travel to the UNESCO World Heritage Site of Luang Prabang, famous for its Buddhist temples and monasteries, situated at the meeting place of the Mekong and Nam Khan rivers, surrounded by the dramatic forested mountains and hillsides for which the area is well-known.
The project has been designed specifically for teens between the ages of 15- and 17-years-old who are looking for a teen volunteering program abroad. Throughout the their time in Laos, teens will learn about GVI's ongoing sustainable development project in Luang Prabang. Each of the long-term objectives set by GVI staff in partnership with local organisations and communities in Luang Prabang are tied to three specific United Nations Sustainable Development Goals, #4, Quality Education, #5 Gender Equality, and #8 Decent Work and Economic Growth.
The main focus of teens on this program will be engagement in cultural exchange activities. This might include language exchange programs where international students learn Lao language skill and cultural practices from Lao students, and Lao students learn English language skills and Western cultural practices from international students. This is a form of horizontal learning, where all students benefit. We hope to inspire both Lao and international students to start their journey toward becoming global citizens, who actively participate in local and global issues. They might also participate in life skills, environmental sustainability,  
water, sanitation and hygiene (WASH) or other health-related workshops
.
Teens will also have the opportunity to immerse themselves in local Buddhist culture by watching novices and monks chant at a local temple and visiting sacred sites. On the weekend they might also experience adventure activities like swimming in the Kuang Si Waterfalls or kayaking down the Mekong river.  
All GVI teen volunteers, including those in Laos, have access to higher levels of support than our over 18 volunteers. All their activities are supervised by leaders in the field who have been chosen for their mix of relevant experience and ability to mentor and inspire young people.
HIGHLIGHTS



Immerse yourself in Laos culture.




Experience the Southern Asian landscape while swimming, hiking, or kayaking.




Learn about Theravada Buddhism.




Start your journey toward becoming a global citizen.




Earn your ILM Youth Leadership certificate.



Program Details
Your Impact
All of our programs have short, mid and long-term objectives that fit with the United Nations Sustainable Development Goals or UN SDGs. This enables us to report on our collaborative impact across the world in a streamlined manner, measuring which UN SDGs we are making a substantial contribution to. Furthermore, this will help our local partners and communities measure and visualise their contribution to the UN SDGs.
Upon arrival to base, you will be educated about the history of the UN SDGs. You will learn about the specific goals of your location, the long-, mid- and short-term objectives, and also clarification of how your personal, shorter-term involvement contributes to these goals on a global level.
Our aim is to educate you on local and global issues, so that you continue to act as active global citizens after your program, helping to fulfil our mission of building a global network of people united by their passion to make a difference.
Laos, specifically Luang Prabang, is quickly becoming a popular Southeast Asian destination among international visitors. As a result the tourism industry is a growing rapidly which provides many locals with new career opportunities. However, English language skills are an important requirement for accessing these jobs.
Three quarters of the population live in rural areas and economic limitations, limited infrastructure, and deep-rooted cultural values, restrict access to education for many. Boys from rural villages travel to cities such as the capital of Luang Prabang to seek out a good education by joining the temples and becoming novice monks. Temples do not accept girls, so women are further restricted from accessing employment opportunities through entrenched gender roles.
Our program in Laos assists the socio-economic development of the country by supporting English language learning at temple schools and other local educational institutions in the capital of Luang Prabang. We assist local teachers, novice monks, lay students, including both children and young adults, and run a program that focuses specifically on providing further educational support for young girls and women.
As such, the main UN Sustainable Development Goals of this project include, #4, Quality Education, and #5, Gender Equality.
Our Partners In Luang Prabang
Project Objectives
GVI LUANG PRABANG'S LONG-TERM OBJECTIVES:
1. To empower locals to increase their access to employment opportunities and improve their socio-economic status through increased access to educational opportunities.
2. To develop relationships with educational institutions, temples, partners and individuals with the aim of increasing their ability to provide educational opportunities (local leadership and capacity building).
3. Provide an authentic experience to GVI Laos volunteers, which develop both personal and professional skills within the field of education and community development through thorough training and mentorship by long term staff.
What's It like?
If you'd like to find out what the experience of joining a GVI project is really like, simply contact us and we'll put you in touch with one of our many Alumni.
We'll try to match you to an Alum based on your location, nationality, age, stage of academic career, gender, and program interests. This allows you to gain insights into the experience that is most relevant to you.
Depending on your location you might be able to speak to an Alum over the phone or online, or meet up with them face-to-face at a coffee shop nearby. We also run a series of small events around the world where you can speak to GVI Alumni, Ambassadors and staff members.
Our Ethics
Below is a list of core ethics and best practices we believe are essential to the operation of high quality, ethical volunteer and sustainable development programs. We believe that all responsible volunteer and sustainable development operations should focus upon these principles. If you are considering volunteering, these are some of the key considerations you should question, to ensure that your time and money contributes towards positive change.
Our 10 Ethical Commitments
Locally Driven, Collaborative Projects
We aim to design all our projects in collaboration with local organizations and communities and ensure that they are locally driven.
Clear Objectives & Sustainable Outcomes
We aim to clearly define short-, mid-, and long-term objectives with sustainable outcomes for all our projects.
Impact Reporting
We aim to track, record, and publish the impact of each of our projects.
Working Against Dependency
We aim to build in-country capacity by assisting local organizations in becoming self-sustaining.
Responsible Exit Strategies
For each local organization we work with, we aim to have a plan in place for withdrawing support responsibly.
Clear Roles & Specialized Training
We aim to ensure that ever participant is assigned a clear role and that they are fully trained and supported to carry out their work by specialized staff.
Respect for all
In all our actions we aim to respect the skills and efforts of all and seek to protect the rights, culture and dignity of everyone who engages with GVI.
Local Ownership
We work to ensure that credit for the results of any project, along with any data collected, research conduct, or Intellectual Property developed, remains the property of local organizations.
Transitioning from the Orphanage Model
We do not condone and aim to withdraw support of orphanages and residential care centers.
Child and Vulnerable adult policies
We will live by our Child Protection and Vulnerable Adult policies.
Continual Development
As an organization, GVI is committed to striving toward best practice, and to educating both our potential participants, our partners, and the world at large about them. Both the volunteering and sustainable development sectors are increasingly, and rightly, under scrutiny. Many recent local and global articles highlight poor practices and questionable ethics. GVI is widely recognized for striving to apply global best practice in the volunteering, education and sustainable development sectors throughout our operations by reputable organizations such as ChildSafe.
However, global best practice is always evolving and we dedicate both time and resources to engage with internationally respected experts and learn from the latest research to ensure our programs both fulfil their potential to create maximum positive impact, and minimise their potential to create unintentional negative impact. Along with and as part of the sustainable development and volunteering community, we are constantly learning and applying this learning to practice. We do not always get everything right, but we seek feedback from our community members, partners, participants and our staff, and react accordingly. We know are already doing a great job, and feedback we have received confirms this, but we aim to do even better and are continuously refining our operations to improve upon our already excellent reputation.
What's Included
24-hour emergency phone

24-hour in-country support

Access to Alumni Services and Discounts

Airport pick-up (unless otherwise stated)

All necessary project equipment and materials

All necessary project training by experienced staff

Location orientation

Long term experienced staff

Meals while on project (except on work placements for long term internships)

Safe and basic accommodations (usually shared)

Welcome meeting
What's Not Included
Additional drinks and gratuities

Extra local excursions

Flights

International and domestic airport taxes

Medical and travel insurance

Personal items and toiletries

Police or background check

Visa costs (where necessary)
Support & Safety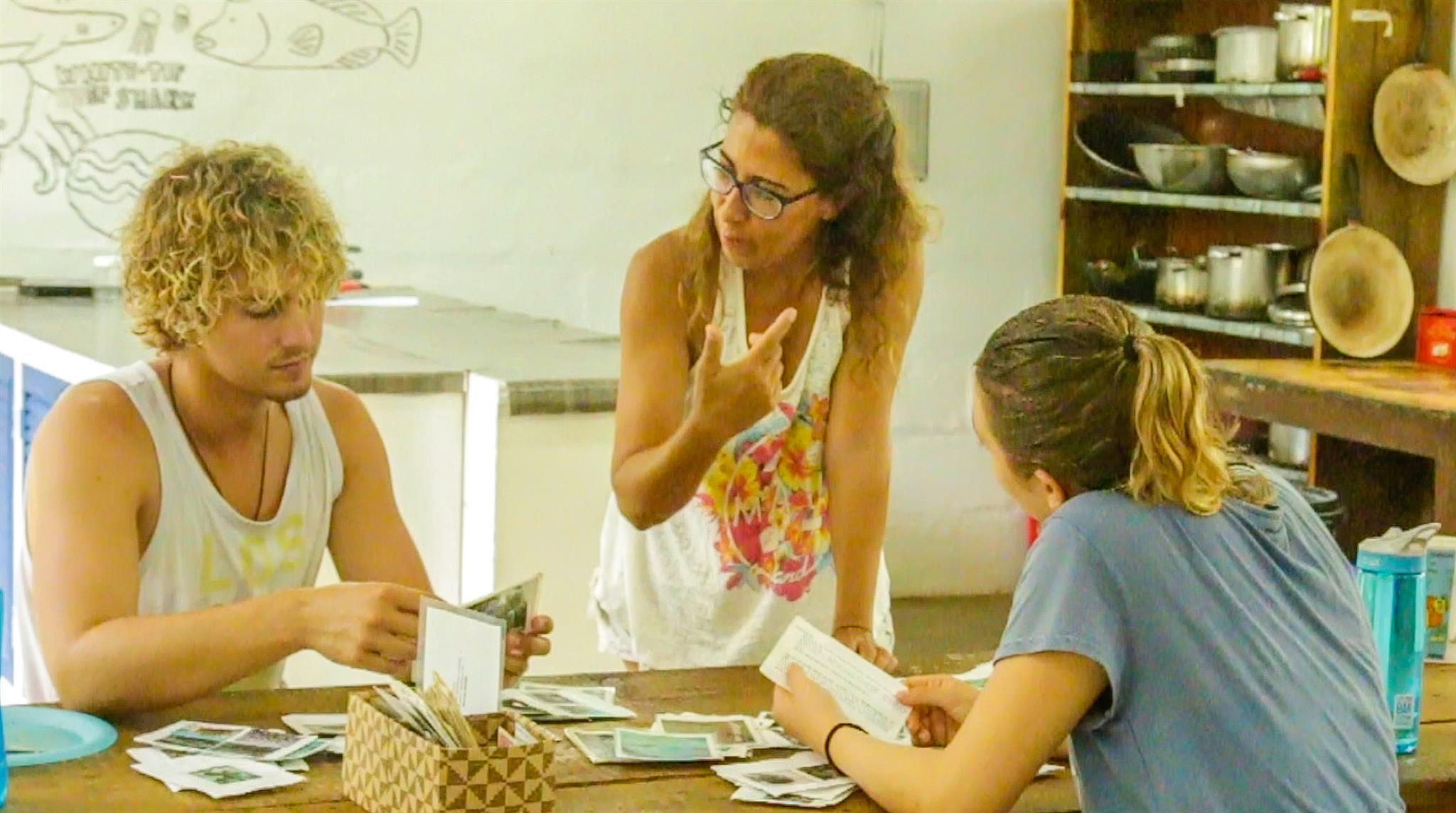 We won't sugarcoat it — Traveling abroad is usually a complex process that carries an element of risk. But this is exactly why we're passionate about providing extensive support throughout the process as well as the highest safety standards during the in-country phase. We believe that volunteering abroad should not only be impactful, but an enjoyable experience that carries as little risk as possible. This is exactly how we've been able to maintain our reputation as the most highly respected volunteering organisations in the sector over the past two decades.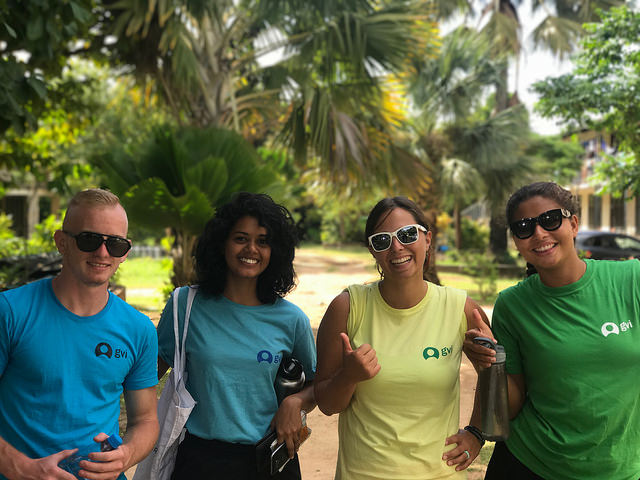 Support
Once a participant books, they will be assigned a personal support coordinator who will oversee their pre-departure journey. The support coordinator helps to bridge the gap between program enrolment and arrival at one of our field bases. Your personal support coordinator will ensure that you are provided with all the necessary information required to apply for visas, background checks, and any other documentation.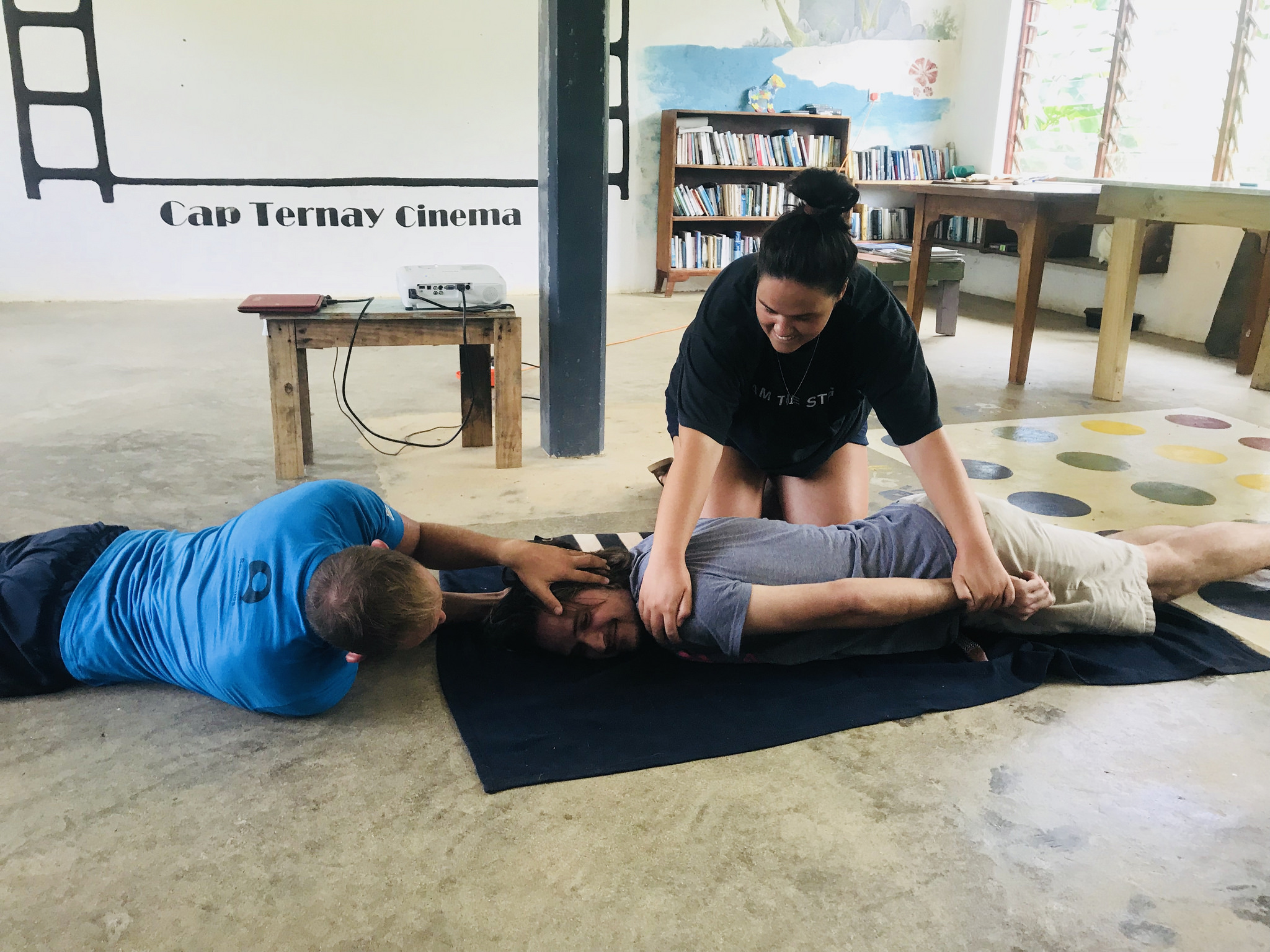 Safety
Upon arrival at the airport participants will be greeted by a GVI staff member. All GVI staff are our own and all our programs around the world are run by our staff. All GVI field staff are background checked, Emergency First Response and safety trained. The minimum staff to participant ratio on GVI's programs is one to six, although on several bases we have a ratio of one to three. When finishing the experience, participants will provide feedback on all aspects of their program.
Health & Safety Case Studies
Meet The Team
George
Field Staff
This is George, one of our Field Staff in Laos. His journey to this position has been eventful to say the least. He first became involved with GVI when volunteering back in 2015 after taking a career break. George loved the program so much he returned as an intern, which ended in a job with GVI. We hope that George doesn't want to end his career break anytime soon!
Katie
Field Staff
Meet Katie, a 26-year-old from the US! She is another one of our Field Staff in Laos. It was originally a trip to India which inspired her journey to where she is now. The time spent reflecting on this trip made her realise making a real difference is what she wanted to do and is why she is where she is now.
Leyla
Program Manager
Introducing Leyla, our Program Manager in Laos. Leyla volunteered in Kenya mid-way through her degree in International Relations. She decided to volunteer after realising that this hands-on experience was crucial for her development. Leyla is now with us in Laos and struggles to see herself leaving anytime soon, great news for us!
Lizzie
Field Staff
Meet Lizzie! Her background is in conservation and she has previously worked in London Zoo. Her passion for helping others develop is a big driving force for her career with GVI.
Lyly
Community Liaison
This is Lyly. She first found GVI after her brothers and sister came to study English with GVI. Now Lyly is proud to say that she is GVI's first Lao female member of staff!
Valee
Community Liaison
Meet Valee. Valee lives in the mountains and was a Novice in a temple for 7 years. He has worked for GVI for 4 years and since introduced some of his siblings to GVI programs. His role includes teaching and translating for classes, and organising locations for meetings.
Molly Plexico
Country Director
Meet Molly, our hard working country director for both Thailand and Laos. Over seeing operations in two countries is no easy task but Molly is more than capable.

She started volunteering and travelling at a young age, working  in soup kitchens, with AmeriCorps, at animal shelters, as a Big Sister with Big Brother Big Sisters of America and as a Guardian ad Litem. She studied family development and psychology and loves to dance.

Her goal is to visit one country for every year she is alive. The most unusual place she has travelled to is Uzbekistan, on a trip beginning in Europe and ending in Southeast Asia. This is where she fell in love with Laos which began her journey with GVI. She started working for GVI back in 2012 and she is now based in Thailand. GVI has hubs all around the world and she has been lucky enough to visit the hubs in Nepal, Thailand, Laos and the office in South Africa.
Parent Info
'If only every student could do this. It changes your life in all the right ways,' says Chris Heritage, parent of Luke Herritage, one of our teen volunteers who has participated on two GVI programs, one in Costa Rica and another in South Africa.
We are a parent-run organisation that is incredibly serious about health and safety, and increasing the impact, as well as the long-term career benefits of our programs. Our programs help young people develop the skills to select a career path that is personally fulfilling, and live a life aligned to the well-being of our planet and the global community.
Ken and Linda Jeffrey, whose son Sam volunteered with GVI in Thailand, talk about how the experience affected Sam. He also went on to volunteer with GVI again in South Africa. 'I know it sounds like a cliche but in a sense, he did go away as a boy and he came back as a young man. Both of us could recommend GVI without any hesitation to any other parent thinking about exploring an opportunity for their children to explore the world and to see different parts of it.'
Parent Info Pack
Download the Parent Pack and learn more about:
Our staff: All our projects are run by staff, selected, vetted, trained, and managed by our central office.
Health and safety: Our safety practices include a child and vulnerable adult protection policy and high participant ratios.
Staying in touch: See what's happening on base, by following a hub's dedicated Facebook page.
Free parent consultations: We would love to talk to you about exciting opportunities available for your child.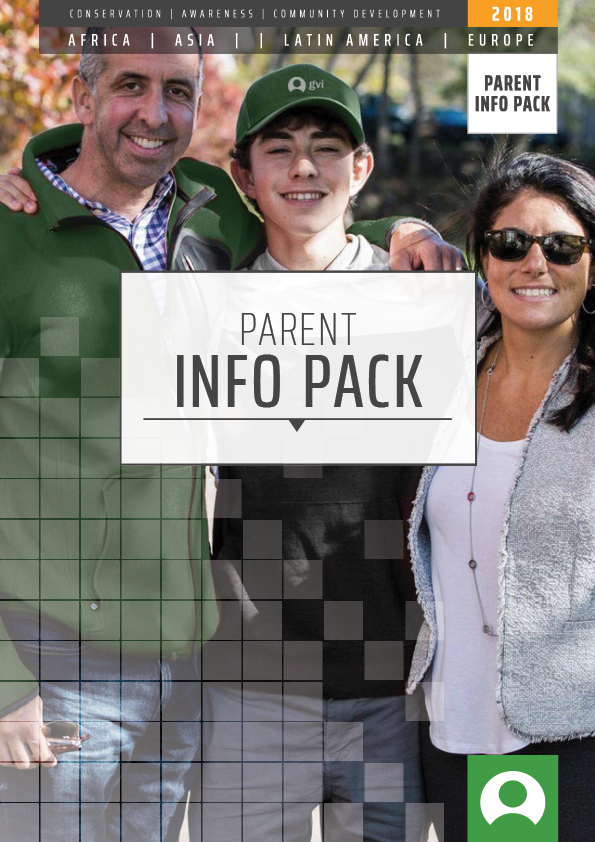 Volunteers who went on this program also considered these
Embark on a Southeast Asian cultural adventure with other teens in the gilded ancient[...]
Teaching
Volunteer with Children
Join other international teen volunteers in the riverside town of Kampong Cham, take[...]
Embark on a West African cultural immersion adventure while making a direct contribution[...]
Contact Us
Global Vision International
1155 North Service Road West, Oakville, Ontario, L6M 3E3, Canada
Learning Provider Number (LPN): 10002692
Centre Number: 17067

Download a Brochure