Program Details
Code: ZACT0286P
Sports in South Africa
Teach township children from Cape Town how to surf
Our Impact
Location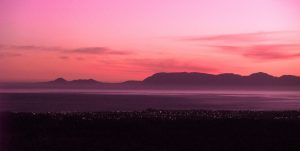 Volunteer in Cape Town
GVI Community operations in South Africa are based out of Gordons Bay, a picturesque coastal village nestled at the foot of the Hottentot Hollands Mountain Range, just outside Stellenbosch and 45 minutes from Cape Town. The area is home to beautiful swimming beaches, magnificent wine farms and popular restaurants and bars. Gordons Bay is also the beginning of the scenic and well-known Garden Route, making this the perfect base to explore the best sites and activities the Cape has to offer.
Program Information
Visit amazing Cape Town in South Africa when you volunteer alongside an international team teaching underprivileged children from local townships various sports and how to keep physically active. Discover the wildlife,
winelands
, mountains and more in your free time.
Overview
Come and join our team to coach mainstream South African sports in townships that surround the beautiful city of Cape Town.
The aim is for you to assist teachers and GVI staff to run sports lessons at the township schools in the mornings. You will be running general physical education classes but you may also be teaching specific sports like football, netball, cricket, tennis, athletics and rugby.
Volunteer and live in an attractive coastal village close to Cape Town and Stellenbosch, with direct exposure to local culture and communities. Optional side trips are available to Robben Island, Table Mountain, Cape Point, Cape Town wildlife safari and wine tasting in Stellenbosch, to name but a few! Any side trips you wish to take can be arranged on arrival in Cape Town. For those travelling onwards there is easy access to the Garden Route and cheap domestic flights to Kruger National park from Cape Town.
Program Details
GVI Live
17 Nov
GVI - Volunteer Abroad [...]
Langa, meaning 'sun' in Xhosa, is one of the oldest townships in South Africa. It was a focal point of resistance against [...]
14 Nov
https://t.co/ofbmBqDPl5
Posts from the Field
South Africa is the ultimate gap year destination, there are so many beautiful places to see but there are also many opportunities [...]
Project Life
Monday to Friday

Every weekday morning you will be teaching sports classes at township schools.

Field Conditions

You will be sharing accommodation facilities with your fellow volunteers in an apartment or house with access to electricity, hot running water.

Free Time

During your downtime at weekends you can relax and enjoy many of the amazing sights and experiences Cape Town has to offer. Several optional side trips are available such as a safari day-trip or cultural tour of the city.
Project Details
This program runs with the collabouration and support of community leaders and teachers from the local communities.
Volunteers will: prepare and run general physical education classes and coach specific sports such as football, netball, cricket, tennis, athletics and rugby.
Without this program or volunteer assistance, the children would not have the opportunity to take part in such a variety of sports activities and events, due to lack of equipment, skills and supervision within the township.
How this project makes a difference:
This project gives township children the opportunity to play sports and also keeps the children physically active and healthy but also safe from the drugs, alcohol, and crime which is so prevalent in the townships.
*During the holiday time all participants will join Cape Town's Holiday Library program, which focuses on providing educational and interactive activities for students in the townships around Gordon's bay. Depending on the needs of the community, you will assist with educational, sports and health related workshops aimed at improving or maintaining high educational standards. SDG 4 – Quality Education.
Cape Town's short, mid, and long-term objectives

All of our programs have short, mid and long-term objectives that fit with the United Nations Sustainable Development Goals. This enables us to report on our collaborative impact across the world in a streamlined manner, measuring which UN SDGs we are making a substantial contribution to. Furthermore, this will help our local partners and communities measure and visualize their contribution to the UN SDGs.
Upon arrival to base, you will be educated about the history of the UN SDGs. You will learn about the specific goals of your location, the long-, mid- and short-term objectives, and also clarification of how your personal, shorter-term involvement contributes to these goals on a global level.
Our aim is to educate you on local and global issues, so that you continue to act as active global citizens after your program, helping to fulfil our mission of building a global network of people united by their passion to make a difference.
Learn about the long-term objectives you will be contributing to in Cape Town:


Improve the quality of education in Nomzamo and Zola.


Promote gender equality in the local community


Increase the health and wellbeing of less privileged people in the community


Increase in-country capacity by providing training to less advantaged people in South Africa


What's It like?
If you'd like to find out what the experience of joining a GVI project is really like, simply contact us and we'll put you in touch with one of our many Alumni.
We'll try to match you to an Alum based on your location, nationality, age, stage of academic career, gender, and program interests. This allows you to gain insights into the experience that is most relevant to you.
Depending on your location you might be able to speak to an Alum over the phone or online, or meet up with them face-to-face at a coffee shop nearby. We also run a series of small events around the world where you can speak to GVI Alumni, Ambassadors and staff members.
Our Ethics
Below is a list of core ethics and best practices we believe are essential to the operation of high quality, ethical volunteer and sustainable development programs. We believe that all responsible volunteer and sustainable development operations should focus upon these principles. If you are considering volunteering, these are some of the key considerations you should question, to ensure that your time and money contributes towards positive change.
Our 10 Ethical Commitments
Locally Driven, Collaborative Projects
We aim to design all our projects in collaboration with local organizations and communities and ensure that they are locally driven.
Clear Objectives & Sustainable Outcomes
We aim to clearly define short-, mid-, and long-term objectives with sustainable outcomes for all our projects.
Impact Reporting
We aim to track, record, and publish the impact of each of our projects.
Working Against Dependency
We aim to build in-country capacity by assisting local organizations in becoming self-sustaining.
Responsible Exit Strategies
For each local organization we work with, we aim to have a plan in place for withdrawing support responsibly.
Clear Roles & Specialized Training
We aim to ensure that ever participant is assigned a clear role and that they are fully trained and supported to carry out their work by specialized staff.
Respect for all
In all our actions we aim to respect the skills and efforts of all and seek to protect the rights, culture and dignity of everyone who engages with GVI.
Local Ownership
We work to ensure that credit for the results of any project, along with any data collected, research conduct, or Intellectual Property developed, remains the property of local organizations.
Transitioning from the Orphanage Model
We do not condone and aim to withdraw support of orphanages and residential care centers.
Child and Vulnerable adult policies
We will live by our Child Protection and Vulnerable Adult policies.
Continual Development
As an organization, GVI is committed to striving toward best practice, and to educating both our potential participants, our partners, and the world at large about them. Both the volunteering and sustainable development sectors are increasingly, and rightly, under scrutiny. Many recent local and global articles highlight poor practices and questionable ethics GVI is widely recognized for striving to apply global best practice in the volunteering, education and sustainable development sectors throughout our operations by reputable organizations such as ChildSafe.
However, global best practice is always evolving and we dedicate both time and resources to engage with internationally respected experts and learn from the latest research to ensure our programs both fulfil their potential to create maximum positive impact, and minimise their potential to create unintentional negative impact. Along with and as part of the sustainable development and volunteering community, we are constantly learning and applying this learning to practice. We do not always get everything right, but we seek feedback from our community members, partners, participants and our staff, and react accordingly. We know are already doing a great job, and feedback we have received confirms this, but we aim to do even better and are continuously refining our operations to improve upon our already excellent reputation.
What's Included
24-hour emergency phone

24-hour in-country support

Access to Alumni Services and Discounts

Airport pick-up (unless otherwise stated)

Airport transfers (before 10pm on scheduled days only)

All necessary project equipment and materials

All necessary project training by experienced staff

Daily transport to and from project sites

Location orientation

Long term experienced staff

Meals while on project (except on work placements for long term internships)

Safe and basic accommodations (usually shared)

Welcome meeting
What's Not Included
Additional drinks and gratuities

Extra local excursions

Flights

International and domestic airport taxes

Medical and travel insurance

Personal items and toiletries

Police or background check

Visa costs (where necessary)
Exploration
Volunteering with GVI not only allows you to participate on programs assisting disadvantaged communities or endangered ecosystems, but it also offers wonderful opportunities to travel in the local area in your down time or further afield either before or after your program. There are many local tour operators offering a wide variety of excursions; or alternatively, many of our volunteers like to team up in country to plan weekend trips together.
Here are some of the exciting local sights and activities that you might want to check out during your stay:
Scenery:



Take a cable car to the top of Table Mountain.




Go hiking in Table Mountain National Park or the many other nature reserves.




Travel to Cape Point, noted for its natural beauty, where you can see baboons, antelope, and zebra.




Make the trip to Cape Agulhas, Africa's Southernmost point.




Visit a private game reserve, two hours outside Cape Town, where you can spot lions, leopards, cheetah, rhino, hippo, and buffalo.




Book a Garden Route tour, traveling along the lush Indian Ocean coast and visit the beautiful Tsitsikamma National Park. From June to November this is the ideal location for spotting whales.




Travel to the Cederberg mountains, to hike the mountain trails and admire San rock art.




Visit the vineyards of Costania, under the shadow of Table Mountain, or Stellenbosch, about one hour outside Cape Town.



Explore Kirstenbosch botanical gardens, where many of the indigenous plants unique to the region can be seen.


Adventure:



Surfing at one of the many beaches.




Diving or snorkeling.




Sea kayaking.




Shark cage diving.




Rock climbing and abseiling on Table Mountain or the many other ranges in the area.




Horse riding on the beach.



Skydiving.


History:



Robben Island, which use to function as a jail for notable political prisoners including Nelson Mandela.




Castle Of Good Hope, the first colonial building in Cape Town.




The District Six Museum, which honours the forcible removal of residents from the area during the apartheid era.




The Bo Kaap Museum, which reflects on the Islamic traditions in the area since colonial times.



The Slave Lodge, creates awareness around the past influences of slavery on the city.


Further Travel In South Africa:



Kruger National Park, South Africa's largest wildlife park, in the North of the country.




The Drakensberg Mountains, the 'Mountain of Dragons', and its famous river canyon.




Addo Elephant Park, a refuge for African Elephants.




The desert habitats of the Karoo and Kalahari.




The historic and verdant Zululand region.





The Team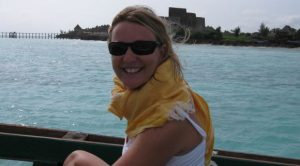 Shayle Havemann
Director of Programs
Meet Shayle, our innovative and driven director for all our projects around the world. She has two honours degrees, one in Industrial and Organisational Psycology, and another in Developmental and Education Psycology. Shayle also has over 10 years experience in setting up, managing and evaluating environmental and community programs across Africa, Asia, Europe and Latin America.

She is well-practiced in facilitating meaningful and effective intercultural engagement and this makes her the perfect person for overseeing our operations in the multicultural country of South Africa.

When not attending meetings or planning her next endeavour, Shayle can be found spending time with her family or taking part in some or other exciting outdoors activity!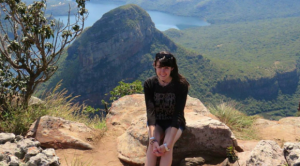 Katelin Ryan
Service Learning Manager Cape Town
A sustainable development extraordinaire with a great commitment to create sustainable solutions for local communities. Katie has worked in South Africa for many years before her role with GVI and after completing her Master's degree in International Education she joined our team of professionals.
Her credentials include over eight years of volunteering, teaching, managing, and leading international education programs around the world. This includes working in zero-waste policy communities in New Zealand, and in an orphan bear refugee center in Croatia.
As our Service Learning Manager she is excited to use her experience designing experiential education programmes and managing community programmes.
Parent Info
'If only every student could do this. It changes your life in all the right ways,' says Chris Heritage, parent of Luke Herritage, one of our teen volunteers who has participated on two GVI programs, one in Costa Rica and another in South Africa.
We are a parent-run organisation that is incredibly serious about health and safety, and increasing the impact, as well as the long-term career benefits of our programs. Our programs help young people develop the skills to select a career path that is personally fulfilling, and live a life aligned to the well-being of our planet and the global community.
Ken and Linda Jeffrey, whose son Sam volunteered with GVI in Thailand, talk about how the experience affected Sam. He also went on to volunteer with GVI again in South Africa. 'I know it sounds like a cliche but in a sense, he did go away as a boy and he came back as a young man. Both of us could recommend GVI without any hesitation to any other parent thinking about exploring an opportunity for their children to explore the world and to see different parts of it.'
Parent Info Pack
Download the Parent Pack and learn more about:
Our staff: All our projects are run by staff, selected, vetted, trained, and managed by our central office.
Health and safety: Our safety practices include a child and vulnerable adult protection policy.
Staying in touch: See what's happening on base, by following a hub's dedicated Facebook page.
Free parent consultations: We would love to talk to you about exciting opportunities available for your child.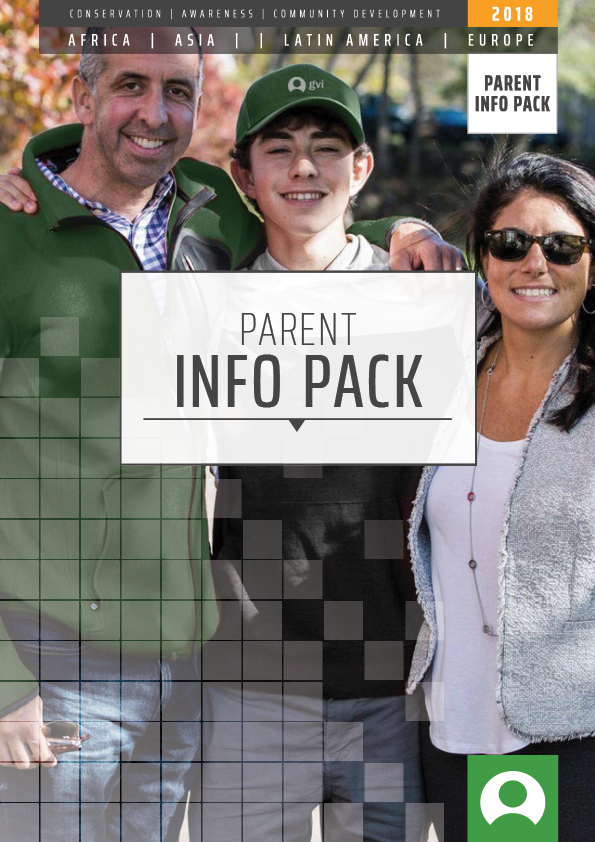 live base updates
Follow GVI Cape-Town's Facebook page for live updates straight from the field. Get an idea of the types of projects you might be involved in, meet our staff and participants, experience life on this GVI base, hear about free time activities, and learn about the local culture and environment.
Volunteers who went on this program also considered these
Contribute to increasing gender equality by volunteering with disadvantaged women[...]
Teaching
Volunteer with Children
Women's Empowerment
Work with local people on community development projects in the South Pacific
Construction
Teaching
Volunteer with Children
Enhance the education of Buddhist Novice Monks as well as other members of the local[...]
Contact Us
Global Vision International
1155 North Service Road West, Oakville, Ontario, L6M 3E3, Canada
Learning Provider Number (LPN): 10002692
Centre Number: 17067

Download a Brochure