Program Details
Code: THAL0469N
Short Term Teaching Internship in Thailand
Develop professional and personal skills while teaching English to children in Phang Nga province!
Our Impact
Location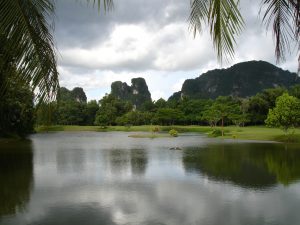 Volunteer in Phang Nga
Phang Nga province is located on the Andaman Sea and is blessed with an abundance of natural resources, numerous national parks and stunning scenery with a wide range of attractions. Phang Nga is made up of white sandy beaches, tropical islands, amazing limestone rock formations and a rich culture. Our project base gives volunteers the opportunity to be immersed in the local culture with chances to explore local attractions on your project downtime.
Program Information
Join a short-term internship centred around teaching English to children in local schools.While interning, you will be living in Thailand's culturally and environmentally rich Andaman region. Immerse yourself in traditional Thai culture and enjoy stunning white sand beaches, all while gaining an education about crucial developmental issues in the area.
Overview
Thailand has a culture that is quite simply put intoxicating, however, also one that has been heavily impacted by a large influx of tourism. On this program escape the well traveled islands and experience a way of life more indicative of typical Thai culture.
Days will be spent teaching English in local schools and centres focus will be on advancing skills at a more accelerated rate than can typically be accomplished without the aid of additional educators.
All internships are geared at developing your leadership and role model skills, allowing you to develop a variety of key soft and hard skills that will put you a step ahead the rest of the pack. GVI have been running community development, education, and conservation projects since 1997 and our highly experienced field staff will help you gain and improve vital skill sets to improve your future job prospects.
During your down time explore this incredible region. Rife with white sand beaches, incredible lime stone cave structures, a complex mouthwatering cuisine, and a culture based on hospitality and warmth.
Program Details
GVI Live
16 Nov
Our marine conservation...
Our marine conservation base, GVI Fiji Caqalai, recently welcomed The Scuba News. Read about their experience diving the [...]
14 Nov
https://t.co/ofbmBqDPl5
Posts from the Field
Our 6-month Conservation Intern, Jon, has written a fantastic piece on plastic pollution and recycling for this year's International [...]
GVI Blog
Many young people often wonder how volunteering will benefit them and if it will really help their university application.
Classroom learning only teaches you so much. Internships allow for a completely immersive educational experience.
Life on the Internship
Work days will be spent in the classroom, assisting with daily English lessons. Time will also be spent working one on one with students who may need additional support. Lessons will take more traditional forms, but will also include games and creative ways of getting the students comfortable using the language conversationally.

As a short term intern you will also take on more responsibility within the classroom, taking on more of the lesson planning duties. Collaborating creatively with the field staffand adding your ideas into the mix. You will also take on more head teaching after training has been completed. Time will also be set aside for leadership development that further assist the projects and contribute to your personal and professional development. At the end of your internship you will plan and implement your own project that contributes to the long term development goals of the project and the community as a whole.

Evenings and weekends are unstructured and leave participants free to explore the region. Traveling to the islands, the nearby city of Phuket, or into the dense jungles surrounding the area are all viable options.

Field Conditions

Our base is small but comfortable. Participants stay in shared facilities, with enough space for people to relax together. The house has access to cold running water, internet, and electricity. All meals on project will be typical Thai cuisine that will be cooked locally giving participants the opportunity to sample the amazing tastes of the region. Participants also have the opportunity to cook for themselves.

Accommodation Upgrades

Also, if you would prefer to stay in private accommodation while on this project, this location does offer upgrades. Contact us for more information, or mention to your Country Expert who will be able to assist you.
Project Details
Thailand is quickly developing and government attention has turned towards emphasizing the importance of English education in the local school systems, making your contributions as a volunteer invaluable.

Many school systems do not have the resources or staff quantity in order to provide all students with the support needed. Participants help to ease the workload, expose students to native spoken English, and bring enthusiasm and energy into the classroom. As an intern it is important to be open to teaching not only with local teachers but also with fellow volunteers and occasionally on your own.

There will also be the opportunity to bring English classes out into the wider communities. Participants will prepare lessons and activities to engage the wider community and offer access to English language improvement.

Our goal is to help our local partner communities develop by providing the children with the necessary skills for improving their future opportunities, all while highlighting the importance in preserving and appreciating the fascinating culture.

Phang Nga's short, mid, and long-term objectives:

All of our programs have short, mid and long-term objectives that fit with the United Nations Sustainable Development Goals. This enables us to report on our collaborative impact across the world in a streamlined manner, measuring which UN SDGs we are making a substantial contribution to. Furthermore, this will help our local partners and communities measure and visualize their contribution to the UN SDGs.

Upon arrival to base, you will be educated about the history of the UN SDGs. You will learn about the specific goals of your location, the long-, mid- and short-term objectives, and also clarification of how your personal, shorter-term involvement contributes to these goals on a global level.

Our aim is to educate you on local and global issues, so that you continue to act as active global citizens after your program, helping to fulfill our mission of building a global network of people united by their passion to make a difference.

Learn about the long-term objectives you will be contributing to in Phang Nga:

1. To promote and encourage good health and well-being, inclusive of all people in our communities
2. To provide equal educational access and opportunities to adults and children of all backgrounds
3. To provide quality volunteer opportunities and experiences for growth and development
4. To create a positive, fun, supportive and communicative workplace for staff with opportunities for personal and professional growth

How this project makes a difference:

Due to the growth of tourism in Thailand the demand for a quality English education is high. Our participants help students and community members increase their career opportunities by increasing their knowledge of conversational English. Knowing English helps increase individual's employability, helping to break the cycle of poverty, and improve future opportunities for multiple generations.

*During school holidays and national holidays and festivals participants may take part in other activities such as joining in village/local festivities and activities, running holiday camps for students, educational workshops in the community, or English class for adults. There may be opportunity to assist with work related to other project focuses.
What's It like?
If you'd like to find out what the experience of joining a GVI project is really like, simply contact us and we'll put you in touch with one of our many Alumni.
We'll try to match you to an Alum based on your location, nationality, age, stage of academic career, gender, and program interests. This allows you to gain insights into the experience that is most relevant to you.
Depending on your location you might be able to speak to an Alum over the phone or online, or meet up with them face-to-face at a coffee shop nearby. We also run a series of small events around the world where you can speak to GVI Alumni, Ambassadors and staff members.
Our Ethics
Below is a list of core ethics and best practices we believe are essential to the operation of high quality, ethical volunteer and sustainable development programs. We believe that all responsible volunteer and sustainable development operations should focus upon these principles. If you are considering volunteering, these are some of the key considerations you should question, to ensure that your time and money contributes towards positive change.
Our 10 Ethical Commitments
Locally Driven, Collaborative Projects
We aim to design all our projects in collaboration with local organizations and communities and ensure that they are locally driven.
Clear Objectives & Sustainable Outcomes
We aim to clearly define short-, mid-, and long-term objectives with sustainable outcomes for all our projects.
Impact Reporting
We aim to track, record, and publish the impact of each of our projects.
Working Against Dependency
We aim to build in-country capacity by assisting local organizations in becoming self-sustaining.
Responsible Exit Strategies
For each local organization we work with, we aim to have a plan in place for withdrawing support responsibly.
Clear Roles & Specialized Training
We aim to ensure that ever participant is assigned a clear role and that they are fully trained and supported to carry out their work by specialized staff.
Respect for all
In all our actions we aim to respect the skills and efforts of all and seek to protect the rights, culture and dignity of everyone who engages with GVI.
Local Ownership
We work to ensure that credit for the results of any project, along with any data collected, research conduct, or Intellectual Property developed, remains the property of local organizations.
Transitioning from the Orphanage Model
We do not condone and aim to withdraw support of orphanages and residential care centers.
Child and Vulnerable adult policies
We will live by our Child Protection and Vulnerable Adult policies.
Continual Development
As an organization, GVI is committed to striving toward best practice, and to educating both our potential participants, our partners, and the world at large about them. Both the volunteering and sustainable development sectors are increasingly, and rightly, under scrutiny. Many recent local and global articles highlight poor practices and questionable ethics GVI is widely recognized for striving to apply global best practice in the volunteering, education and sustainable development sectors throughout our operations by reputable organizations such as ChildSafe.
However, global best practice is always evolving and we dedicate both time and resources to engage with internationally respected experts and learn from the latest research to ensure our programs both fulfil their potential to create maximum positive impact, and minimise their potential to create unintentional negative impact. Along with and as part of the sustainable development and volunteering community, we are constantly learning and applying this learning to practice. We do not always get everything right, but we seek feedback from our community members, partners, participants and our staff, and react accordingly. We know are already doing a great job, and feedback we have received confirms this, but we aim to do even better and are continuously refining our operations to improve upon our already excellent reputation.
What's Included
24-hour emergency phone

24-hour in-country support

Access to Alumni Services and Discounts

Airport pick-up (unless otherwise stated)

All necessary project equipment and materials

All necessary project training by experienced staff

Certification and summary of training and experience received

Confidential professional reference

Location orientation

Long term experienced staff

Meals while on project (except on work placements for long term internships)

Safe and basic accommodations (usually shared)

Teamwork and leadership experience

Weekly evaulation with your mentor

Welcome meeting
What's Not Included
Additional drinks and gratuities

Extra local excursions

Flights

International and domestic airport taxes

Medical and travel insurance

Personal items and toiletries

Police or background check

Visa costs (where necessary)
Exploration
Interning with GVI not only allows you to participate on programs developing education in communities but it also offers wonderful opportunities to travel in the local area in your down time or further afield either before or after your program. Many decide to travel after interning, solidifying the lifetime friendships established on program.

Our long term field staff are a great source of advice and are here to help you make the most of your time abroad. Remember to ask about discounts on local activities and side trips through your association with GVI. Our Phang Nga field teams have helped us put together the following information on trips and travel options in Thailand!

Optional Side Trips

Take advantage of the amazing sites and scenery the Andaman region of Thailand has to offer. There are endless opportunities to visit islands, beaches, parks and caves and many can be done on weekends. While on the ground, we are here to help so make sure to ask our field staff to assist you with planning trips.

Explore the amazing Khao Sok National Park, including the stunning Cheow Larn Lake and 740km² of rainforest and which is home to elephants, leopards, tigers, deer, monkeys, lizards, birds, and the Rafflesia  – the largest flowers in the world, 90cm across with a unique aroma…of rotting flesh! Take a day trip for a quick sample of the park's delights or stay overnight and discover even more – perhaps in one of the jungle tree houses, or even on a bungalow that floats on the lake. Trek through the jungle, kayak around Cheow Larn lake visiting spectacular limestone caves, swim in idyllic waterfalls or just relax and see what you can spot!

Khao Lak is a very popular tourist spot close by, with beautiful, seemingly endless beaches, so many dining options you'll be spoilt for choice and hundreds of spas offering massages and treatments at reasonable rates. With a wide range of accommodation options, from luxury resorts to hostels, Khao Lak offers you the chance to spoil yourself for a few days, whether you're on a budget or looking to splurge a little.

The Similan and Surin Island groups, both under the protection of their Marine National Park status, are home to some of the best diving and snorkelling spots in the region. You can take a day trip, stay on a live aboard boat or even stay overnight on the islands themselves.

Phuket Island, about 90mins south of Khao Lak and renowned for its colourful night life is also a great stop-off for divers and snorkelers, but if you're not the diving type you can explore Phang Nga Bay by speed-boat or sea kayak, stopping off at James Bond Island, made famous by the 1974 film 'The Man With the Golden Gun' before visiting the floating Sea Gypsy village. Phuket is also very popular with surfers, playing host to annual surfing competitions, though there is a great 'secret spot' near Khao Lak…if you're interested GVI staff will show you the way!

Neighbouring Krabi Province is a treasure trove for intrepid travellers; from the crystal clear Emerald Pond to the epic 1,237-step climb up to the Buddha image and stunning views at the Tiger Temple Cave to the enchanted scenery and pools of Than Bok Khoranee National Park to the shopping and late night bars of Ao Nang to the chilled out beaches of Koh Lanta Island to the parties of Phi Phi, where 'The Beach' was filmed – the options are truly endless!

Further Travelling Opportunities

Thailand is a country with a whole range of fantastic places that you could visit. If you have the time and budget, you could consider going to see the following; the waterfalls of the picturesque Khao Yai National Park, the mountain town of Chiang Mai, the local tribes of Nam Province, the beaches of Ko Tao and Mu Ko Chang Marine National Park, the golden kingdom of Ayuthaya, the temples and nightlife of Bangkok and many more…
The Team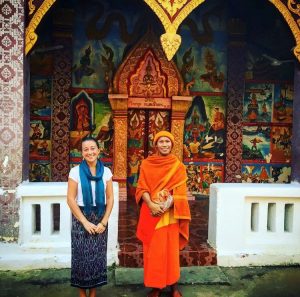 Molly Plexico
Country Director
Meet Molly, our hard working country director for both Thailand and Laos. Over seeing operations in two countries is no easy task but Molly is more than capable.

She started volunteering and travelling at a young age, working  in soup kitchens, with AmeriCorps, at animal shelters, as a Big Sister with Big Brother Big Sisters of America and as a Guardian ad Litem. She studied family development and psychology and loves to dance.

Her goal is to visit one country for every year she is alive. The most unusual place she has travelled to is Uzbekistan, on a trip beginning in Europe and ending in Southeast Asia. This is where she fell in love with Laos which began her journey with GVI. She started working for GVI back in 2012 and she is now based in Thailand. GVI has hubs all around the world and she has been lucky enough to visit the hubs in Nepal, Thailand, Laos and the office in South Africa.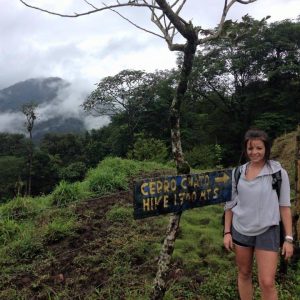 Kathryn Woodroffe
Conservation project coordinator
Meet Katie, our brilliant conservation project coordinator in Phang Nga, Thailand. She is experienced in environmental education, working within zoos and outreach programmes in the UK, teaching a huge range, from pre-school children through to university students.
From a young age she travelled to many unique and culturally diverse places with her family.
During her short term internship with GVI, at Jalova Biological Research Station, 
she
 developed and advanced
her 
surveying, research and project development skills whilst working in one of the most biodiverse regions in the world. 
Her must bring travel item is her trusty camera; "There is not a day that goes by where I don't encounter a moment that I want to capture, especially when exploring the worlds natural beauty."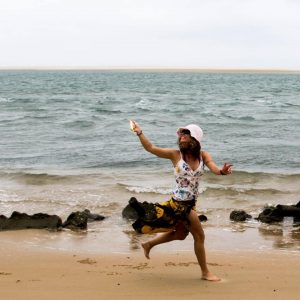 Dora Szabados
Base Manager
Meet Dora, our insightful base manager in Phang Nga, Thailand. She has spent much of her life traveling, studying and volunteering all over the world. She grew up in China but felt the need to explore the world. She's lived in many different countries such as Egypt, Japan and the Phillippines,saying that she's not one to stay in one place for very long. She's also explored most of Europe an the west of the USA.
She has a BA in international relations focusing on the continents of Africa and Asia. She's also a certified, open water NAU diver.
Her favourite thing about working for GVI is how every day is different and how meeting so many new people has taught her so much about herself. She's a real life traveller and we're lucky to have her on board.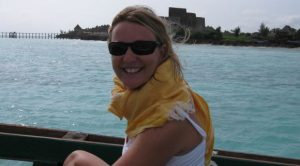 Shayle Havemann
Director of Programs
Meet Shayle, our innovative and driven director for all our projects around the world. She has two honours degrees, one in Industrial and Organisational Psycology, and another in Developmental and Education Psycology. Shayle also has over 10 years experience in setting up, managing and evaluating environmental and community programs across Africa, Asia, Europe and Latin America.

She is well-practiced in facilitating meaningful and effective intercultural engagement and this makes her the perfect person for overseeing our operations in the multicultural country of South Africa.

When not attending meetings or planning her next endeavour, Shayle can be found spending time with her family or taking part in some or other exciting outdoors activity!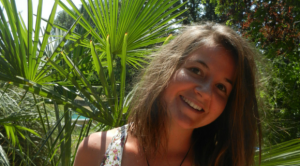 Caroline Van Der Does De Willebois
Service Learning Manager Thailand
A conservationist and adventurer at heart with a passion for sustainable development and marine conservation. Caroline has a Master's degree in International Development and past experience working with the UN's Food and Agriculture Organisation, educational marine conservation with the Marine Megafauna Foundation in Mozambique, and dive instructing in Thailand.
Caroline believes that GVI's combination of conservation and community development projects helps us to reach a true and sustainable impact in the field.
Her travels have taken her all over the world, but she is grateful to have returned to Thailand to join the GVI family and support and train others to have the best possible Service Learning experience!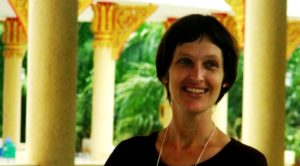 Jill Walker
Assistant Director of Programs
Meet Jill, our Assistant Director of Programs and line manager for Thailand, Laos, India, Nepal, Australia and Kenya programs. 'Manow' (lime), as she's locally known in Thailand where she's based, taught English, environmental education and art in the USA and Thailand before joining us to set up a TEFL and Community Development Expedition. "I haven't looked back since!"


When Jill isn't working, she likes reading or doing just about anything energetic. "I devour books, love cooking and enjoy finding some time to get some exercise – yoga, dancing and aerobics are some of my faves."


What does Jill like most about her job? "It's great to see volunteers rising above the cultural and language barriers between themselves and the communities. That, and every day is completely different, which is the way I like it- it keeps me from getting bored." Being 'allergic' to being bored has led to Manow doing some pretty amazing things. "I once ended up spending a week living in a cave with some Buddhist monks while I helped them build a small adobe monk hut."

Publications
Parent Info
'If only every student could do this. It changes your life in all the right ways,' says Chris Heritage, parent of Luke Herritage, one of our teen volunteers who has participated on two GVI programs, one in Costa Rica and another in South Africa.
We are a parent-run organisation that is incredibly serious about health and safety, and increasing the impact, as well as the long-term career benefits of our programs. Our programs help young people develop the skills to select a career path that is personally fulfilling, and live a life aligned to the well-being of our planet and the global community.
Ken and Linda Jeffrey, whose son Sam volunteered with GVI in Thailand, talk about how the experience affected Sam. He also went on to volunteer with GVI again in South Africa. 'I know it sounds like a cliche but in a sense, he did go away as a boy and he came back as a young man. Both of us could recommend GVI without any hesitation to any other parent thinking about exploring an opportunity for their children to explore the world and to see different parts of it.'
Parent Info Pack
Download the Parent Pack and learn more about:
Our staff: All our projects are run by staff, selected, vetted, trained, and managed by our central office.
Health and safety: Our safety practices include a child and vulnerable adult protection policy.
Staying in touch: See what's happening on base, by following a hub's dedicated Facebook page.
Free parent consultations: We would love to talk to you about exciting opportunities available for your child.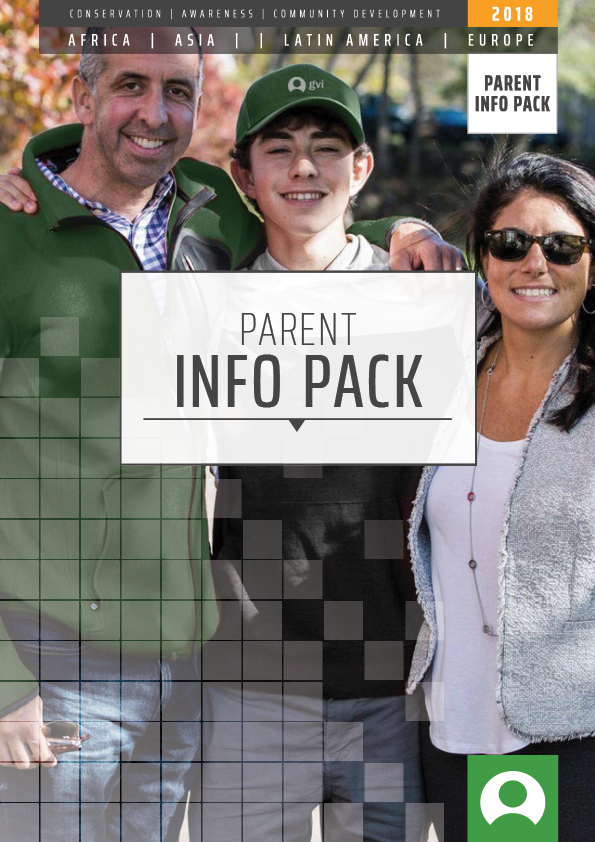 live base updates
Follow GVI Phang-Nga's Facebook page for live updates straight from the field. Get an idea of the types of projects you might be involved in, meet our staff and participants, experience life on this GVI base, hear about free time activities, and learn about the local culture and environment.
Arrivals
When it comes to support, we ensure that each participant is provided with unparalleled, 360 degree support, from your initial contact with the GVI Family, all the way through your program, and even after, as you become part of the GVI Alumni Team.
As part of this promise, we will ensure, whenever possible, that one of our dedicated staff will be available to meet you at the airport. We will arrange with you prior to your departure that, should you arrive in the agreed upon pick up window, a member of our staff will be there to welcome you, easily identifiable in a GVI t-shirt or holding a GVI sign and wearing a friendly smile. This means there will be someone there to greet you as you land, and from there you will be transported to your GVI base to start your adventure and meet the rest of your team.
Volunteers who went on this program also considered these
Immerse yourself in the local culture and contribute to valuable community development[...]
Volunteer with Children
Teaching
Construction
Live in the Caribbean and collaborate with Save the Children on this short term community[...]
Teaching
Volunteer with Children
Explore the tropical country of Fiji on a hands-on short-term teaching internship
Contact Us
Global Vision International
1155 North Service Road West, Oakville, Ontario, L6M 3E3, Canada
Learning Provider Number (LPN): 10002692
Centre Number: 17067

Download a Brochure